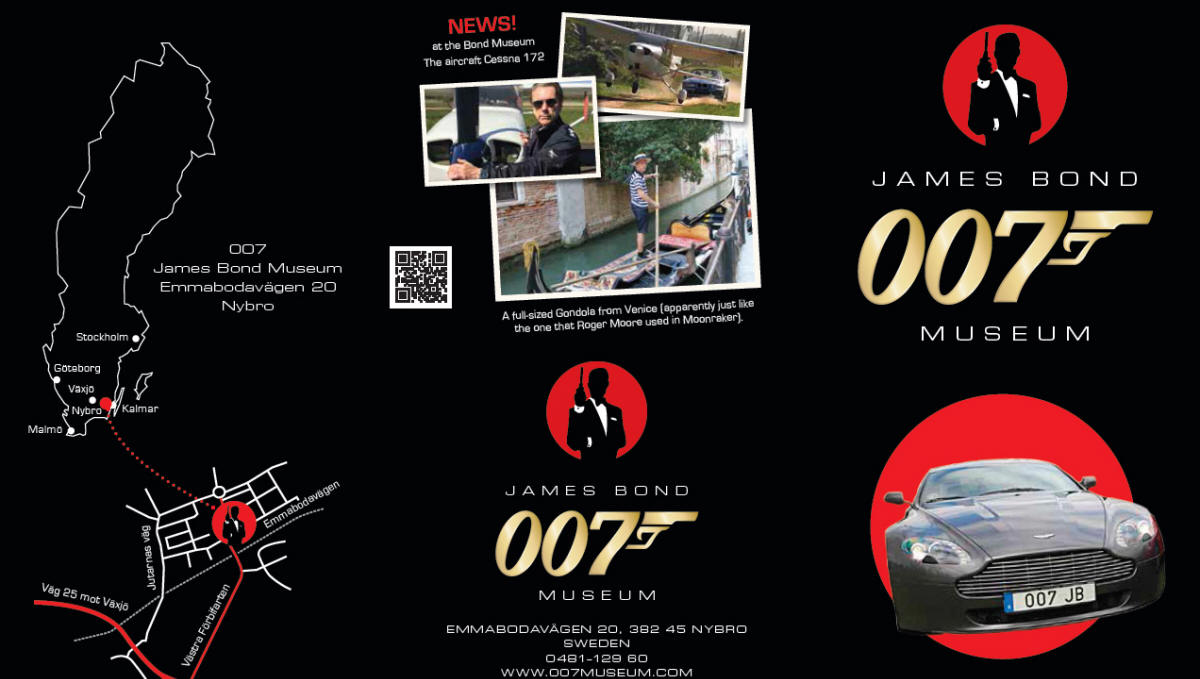 Booking biljetter ticket online


Booking ticket. Open mon-fri 11-15, sat. 10-14









Contact: 007museum@telia.com Phone+4648112960 Open Daily 11-15 Sat 10-14 Media/Press Buy
James Bond Theme Party PPKGuns Omega Bmw Bollinger Corgi Swatch Posters James Bond store Links
Welcome to The World's only James Bond 007 Museum Nybro Sweden.
In Bond movie Die Another Day, Pierce Brosnan wears Persol PE2672-S
Persol 2720 S As worn by James Bond 007 ( Daniel Craig ) in Casino Royale
Persol is once again dressing the gaze of James Bond, the legendary British secret agent, in the new 007 movie Casino Royale. James Bond perfectly represents Persol image and values: fashionable, stylish, yet sophisticated.

In Casino Royale, James Bond wears two pairs of Persol frames during the film. At the start of the plot, Bond wearsa Persol metal frame: Persol 2244. In the second part of the story after experiencing a number of adventures, James changes toPersol style 2720 (turtle frame and green lenses, color code 24/31)

Persol 2720 S As worn by James Bond 007 ( Daniel Craig ) in Casino Royale Supplied with 007 Bond Branded Persol case,


As worn by Daniel Craig ( James Bond 007 )
In Casino Royale in the second part of the movie, Earlier on in the movie he was wearing the Persol 2244 which we also have advertised on our web site.
Discounted Sunglasses bring you the most desirable from the Persol 2007 range, including the highly sort after James Bond 007 range from the latest Casino Royale smash hit movie. Daniel Craig as 007 wore these at the beginning of the movie before switching to the 2720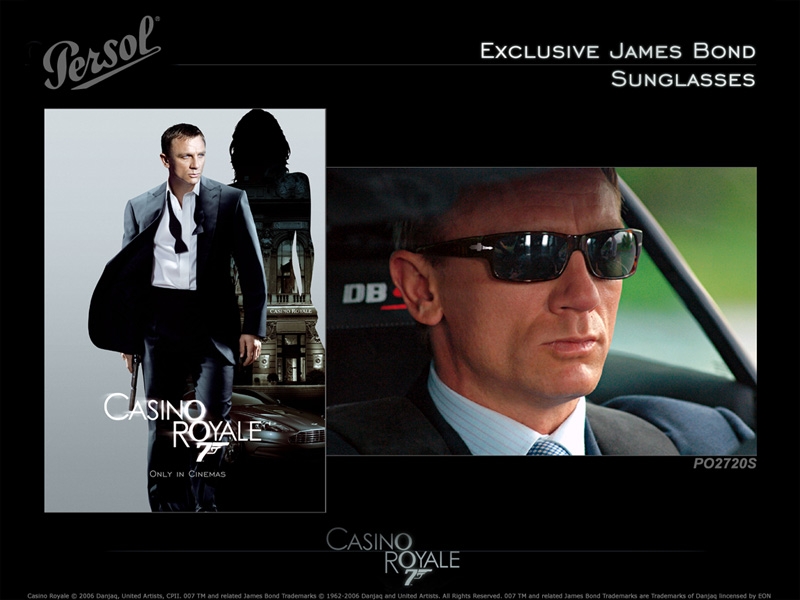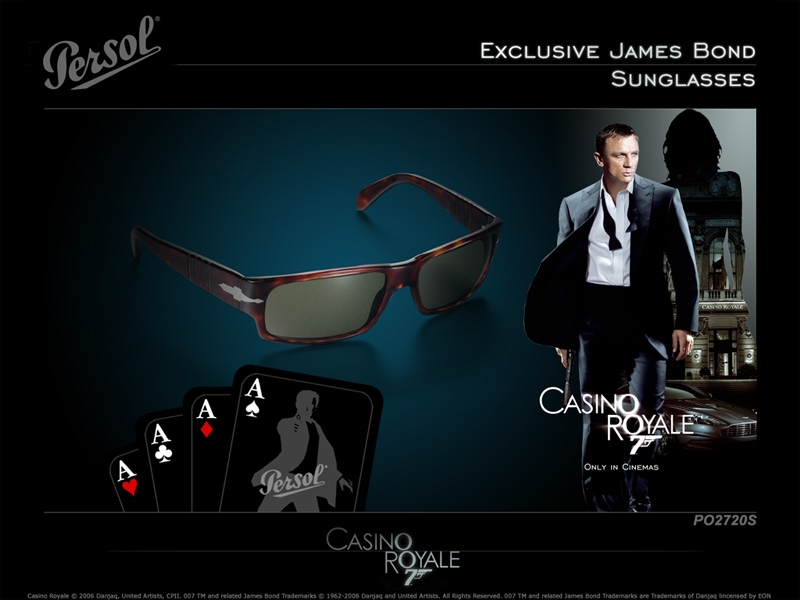 Style Persol 2244 features sporty chic design, constructed from a metal front joined to acetate arms by satin finish metal plates. It is characterized by a dynamic double bridge and by the exclusive Meflecto system with two cylinders. Available in a wide range color options, and in polarized versions. The shade wore by James Bond is option 834/33 which particularly sets off the personality of this model, with brown lenses and a gunmetal grey satin metal frame.



Persol 2244 S POLARISED

Supplied with Branded Case

As worn by Daniel Craig ( James Bond 007 ) In Casino Royale

Persol recently was introduced to a new generation, as the sunglasses worn by Daniel Craig's James Bond in Casino Royale. Craig wore the 2244 as Bond, as in photo below. These in GUNMETAL matte metal frame with black, metal-reinforced polished plastic temples and grey Polarized lenses. A great look for any season, classic and contemporary fusion. Slight "wrap".

As 007, Craig is only the latest in a long line of Persol wearers, including famed actress and privacy seeker Greta Garbo. Pierce Brosnan's Bond also wore Persols in Die Another Day. Nicholas Cage was in Persols throughout Lord of War. The Persol 649s Steve McQueen wore in Thomas Crown Affair were among personal effects in McQueen's estate auction and set the auction record for a pair of sunglasses: $70,000. Also worn by Marcello Mastroianni in "Divorce, Italian Style" with Sophia Loren, and by countless other stars and cool people since. Persol's patented "Meflecto" temple construction - with side flexibility and strength provided by inset bars of steel or nylon for perfect fit - has never been duplicated. (The 2244 has two metal Meflecto bars on temples.)