22/11/2002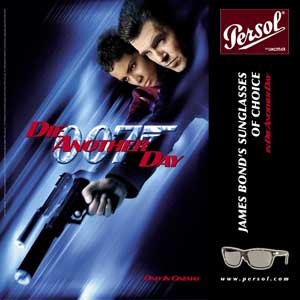 Persol veste lo sguardo di 007
Gli occhiali Persol creano un'eleganza sobria per James Bond in "Die Another Day"
Pierce Brosnan, attore protagonista di "Die Another Day - La morte può attendere", indosserà nel ventesimo film della serie di James Bond, prodotta da Mgm ed Eon Production, un paio di occhiali da sole Persol appositamente creati per l'occasione.

"La morte può attendere", prodotto da Michael G. Wilson e Barbara Broccoli, uscirà nelle sale il 22 novembre 2002. Ora tutti possono realizzare il "Bond look" sfoggiando il nuovo accessorio: gli occhiali da sole Persol.

Nel film, Pierce Brosnan indossa il modello Persol PE2672-S, appositamente realizzato per unire le caratteristiche del marchio degli occhiali con quelle del personaggio di Bond: sobria eleganza e ricercatezza. James Bond è un personaggio sicuro di sé, disinvolto, classico, celebre per il suo stile impeccabile. I Persol presentati da Bond sono un accessorio che riflette lo stile distintivo del suo personaggio.

Un nuovo accessorio per Bond e un nuovo articolo per la collezione Persol, PE2672-S costituisce una versione migliore della classica montatura tartaruga in plastica, con lenti di cristallo marrone scuro e il logo della freccia in argento posto sulla stanghetta. I Persol che compaiono nel film hanno uno stile universale, che incornicia gentilmente il viso adattandosi a forme e dimensioni differenti. Vengono presentate le singolari stanghette Meflecto Flessibili, che si modellano al viso in modo perfetto e confortevole. Mantenendo la reputazione di una classe senza tempo, i Persol di Bond rappresentano l'accessorio perfetto per una persona sicura.

Persol ha stretto un rapporto d'amore con Hollywood comparendo nel corso degli anni in centinaia di film, il primo "Divorzio all'italiana" con Marcello Mastroianni. Da allora, Persol ha continuato a fare la propria comparsa sui personaggi principali di famosi film come "Terminator 2", "Cocktail", "Lo specialista", "Goldeneye", "Il Postino" e "Bandits".

Luxottica vive con eccitazione la partecipazione a uno dei più riusciti film franchising della storia del cinema. L'azienda ha collaborato strettamente con la Costumista Lindy Hemming per produrre un paio di occhiali da sole che rappresentassero l'eleganza e lo stile di James Bond, creando la partnership ideale tra i due marchi.

PERSOL EYEWEAR CREATES UNDERSTATED ELEGANCE FOR JAMES BOND IN DIE ANOTHER DAY

NEW YORK, NY (October X, 2002) - Die Another Day leading star Pierce Brosnan will don a specially designed pair of Persol sunglasses in MGM and EON Production's 20th installment of the James Bond series. Die Another Day, produced by Michael G. Wilson and Barbara Broccoli, hits theaters nationwide on November 22, 2002. Now everyone can achieve the "Bond" look with the ultimate accessory- Persol sunglasses.
In Die Another Day, Pierce Brosnan wears Persol PE2672-S, which were specially crafted by Persol to tie in the brand characteristics of the eyewear with those of the Bond character - understated elegance and sophistication. James Bond is the ultimate confident, ultra-cool, classic character that is renowned for his impeccable style. The Persols featured on Bond are an accessory that reflects the distinctive style of his character.
According to Luxottica, makers of Persol, the company is excited to be a part of one of the most successful film franchises in cinema history. Luxottica worked closely with Costume Designer Lindy Hemming to produce a pair of sunglasses that accurately depicts the elegance and style of James Bond-- creating the ideal partnership between the two brands.
A new accessory for Bond and a new addition to the Persol collection, PE 2672-S is an upgraded version of the classic tortoise plastic frame with a dark brown crystal lens complete with the signature silver arrow on the temple. The Persols featured in the film are a universal style that wrap smoothly around the face and compliment most face shapes and sizes. They feature Persol's unique Meflecto Flexible temples that form to one's face to provide a comfortable, perfect fit. While maintaining its reputation for timeless class, Bond's Persols are the perfect accessory for the confident individual. The Persol style featured in the film is available at Sunglass Hut, LensCrafters, leading department stores, independent optical chains, sunglass specialty stores, and other fine optical providers
Persol has enjoyed a long love affair with Hollywood appearing in hundreds of films over the years, the first being Marcello Mastroianni's Divorce Italian Style. Since that time, Persol has continued to appear on the lead characters of such well-known films as Terminator 2, Cocktail, The Specialist, Goldeneye, The Postman, and Bandits.
Die Another Day, the latest 007 adventure, is directed by Lee Tamahori ("Once Were Warriors", "The Edge", "Along Came A Spider") and deals with betrayal, hi-tech weaponry and military domination on a huge scale.
The story begins in the demilitarized zone between North and South Korea with a spectacular high-speed hovercraft chase and continues via Hong Kong to Cuba and London where Bond meets up with the two ladies who are to play such important and differing roles in his quest to unmask a traitor and to prevent a war of catastrophic consequence. Hot on the trail of the principal villains, Bond travels to Iceland where he experiences the power of an amazing new weapon before a dramatic confrontation with his main adversary back in Korea where it all started.

Pierce Brosnan, who starred in the highly successful "GoldenEye, "Tomorrow Never Dies" and "The World is Not Enough", reprises his role as James Bond, who finds himself in serious trouble when a covert operation in North Korea is compromised by an unknown traitor. The two girls involved with Bond are American actress Halle Berry ("X-Men", "Swordfish") and relative newcomer London-born Rosamund Pike who is rapidly making a name for herself on television and the British stage.
British actor Toby Stephens has been signed to play the main villain with Rick Yune, an American actor of Korean descent, playing his evil accomplice. Experienced American actor Michael Madsen ("Grand Theft Auto 3", "Pressure Point", "The Confidence Game") plays the role of an uncompromising CIA agent. Dame Judi Dench makes a welcome return as 'M'. John Cleese takes over the role of 'Q' following the tragic death of the late Desmond Llewelyn. Completing the regular MI-6 team are Samantha Bond as 'Moneypenny' and Colin Salmon as 'Robinson'.
Founded in 1961, Luxottica Group is the world leader in the design, manufacture and marketing of quality eyewear. In addition to Persol, the Luxottica eyewear collection, both wholly-owned and licensed brands -- includes: Ray-Ban, Revo, Killer Loop, Vogue, Arnette, Giorgio Armani Occhiali, Emporio Armani, Chanel, Bvlgari, Moschino, Anne Klein, Brooks Brothers, Sferoflex and Luxottica. For more product information on Persol, consumers may visit www.persol.com.
Eon Productions/Danjaq, LLC is owned by the Broccoli family and has produced nineteen James Bond films since 1962. The Bond films make up the most successful franchise in film history and include the recent blockbuster films, GOLDENEYE, TOMORROW NEVER DIES, and THE WORLD IS NOT ENOUGH produced by Michael G. Wilson and Barbara Broccoli. EON Productions is currently in production of the twentieth James Bond Film, DIE ANOTHER DAY, which is due for release in the UK in November 2002. Eon Productions and Danjaq, LLC are affiliate companies and control all worldwide merchandising of the James Bond franchise.