James Bond Homepage
007museum@telia.com
Donations/Gåvor
James Bond Museum



EON Productions movies


1. Dr No 1962
2. From Russia With Love 1963
3. Goldfinger 1964
4. Thunderball 1965
5. You Only Live Twice 1967
6. On Her Majesty`s Secret Service
7. Diamonds Are Forever1971
8. Live And Let Die1973
9. The Man With The Golden Gun
10.The Spy Who Loved Me
11.Moonraker 1979
12.For Your Eyes Only 1981
13.Octopussy 1983
14.A View To A Kill 1985
15.The Living Daylights 1987
16.Licence To Kill 1989
17.Goldeneye1995
18.Tomorrow Never Dies1997
19.The World Is Not Enough
20.Die Another Day 2002
21.Casino Royale 2006
22.Quantum Of Solace 2008
23.James Bond 23
24.James Bond 24

Not included in
Bondserie or
EON Productions
Casino Royale 1954
Casino Royale 1967
Never Say Never Again 1983

Producer
Albert "Cubby"Broccoli
Harry Saltzman
Barbara Broccoli
Michael G,Wilson

Writers to all Bond books
Ian Fleming
Amis Kingsley
Raymond Benson
John Gardner
Charlie Higson
Sebastian Faulks
Jeffery Deaver
Neal Purvis screenwriter
Robert Wade screenwriter
Bondbooks

James Bond actors
Barry Nelson
Sean Connery
George Lazenby
Roger Moore
Timothy Dalton
Pierce Brosnan
Daniel Craig

James Bond Composers
Monty Norman 1
John Barry 11
George Martin 1
Marvin Hamlisch 1
Bill Conti 1
Michael Kamen 1
Eric Serra 1
David Arnold 5
James Bond Music
22 Best Bondsoundtrack

Bondgirls
Honey Ryder Ursula Andress
Britt Ekland
Izabella Scorupco
Maud Adams
Kristina Wayborn
Mary Stavin
Halle Berry JINX

Bond Villians
Jaws (Rickard Kiel)

Ian Flemings Books

Casino Royale (1953)

Live And Let Die (1954)

Moonraker (1955)

Diamonds Are Forever (1956)

From Russia With Love (1957)

Doctor No (1958)

GOLDFINGER (1959)

For Your Eyes Only (1960)

Thunderball (1961)

The Spy Who Loved Me (1962)

On Her Majesty's Secret Service (1963)

You Only Live Twice (1964)

The Man With The Golden Gun (1965)

Octopussy and the Living Daylights (1966)

The Royal flatbed typewriters were the only unique design that the Royal company put on the market. But when it came to work horses, the company introduced one price winner after the other for decades. And from the 1930s on, the line included portables. The Quiet De Luxe was the flagship for many years.

In the late 1940s Royal had the Quiet De Luxe redesigned by Henry Dreyfuss who came up with the model shown on this page. It is not the kind of machine that deserves a place in a museum for antique typewriters, except that this one is... made of gold. Not solid gold, but plated.

The gold-plated machine was produced in a limited edition and sold at a considerable price. Apparently, one of them was owned by author Ian Fleming.

Courtesy of: Robert collection
Ian Fleming, the father of James Bond
Ian Fleming was born in 1908. He was a British writer who wrote books about an English spy called James Bond with the codename 007.
The 00 stands for that he's got license to kill anyone, anytime, anywhere.
At the time of his writing the cold war was at its peak.The cold war was also one reason why his books became as successful as they did.
Ian Flemming wrote twelve books about the spy James Bond.
In 1964 Ian Fleming died and at that time only two James Bond films had been produced. It was the movies that made James Bond famous worldwide.
James Bond Actors
There's been five actors playing Mr Bond more than one time:
Sean Connery, Roger Moore, Timothy Dalton, Pierce Brosnan and Daniel Craig
Many people have different opinions which of them is the real Bond.
Most of them say it's Sean Connery because he was first playing Bond.
I think Pierce Brosnan is best as James Bond

James Bond
James Bond works for the British government and gets his missions from them.
The stories about James Bond are all about how he tricks all his enemies and gets all the nice women. His enemies are often Russian criminals.
This seems to be a common action story but the Bond films are special.
James Bond is never stressed or scared. Even if he is in a very critical situation like jumping after an aeroplane which is falling to the ground climb into the plane and fly away with it.

This seems to be very dangerous but for Mr Bond it's a piece of cake.
At his base in London somewhere he's got this guy who helps him called Q. He's participated in almost every bond movie.
He produces lots of gadgets in his laboratory, which are supposed to help Mr Bond on his missions. In every film he gets a new car from Q.
Q always tells bond to be careful with the car and he's like yeah yeah and crashes the car in every film.
We also have this woman called moneypenny, who seems to be in love with Mr Bond but never gets him.

Another classical character in the bond films is one of his enemies who is a very big man called Jaws. He's got metal teeth and is very strong but he's not very smart so he always screws up and falls out of aeroplanes without a parachute but always survives. He never says anything and no one knows why. One exemption for that is in the film moonraker when he becomes friend with Mr Bond says cheers with a champagne glass in his hands.
Mr Bond also has some things he says in every film like "Hi my name is Bond, James Bond" and "I want dry martini shaken not stirred".
All these things are classical for almost every bond film.
Some other classical things in the bond films are all the sponsors that want their names in the film. In the early movies Mr Bond always drove an Aston Martin car but in today's movies he drives a BMW.
He's always got an Ericsson cellphone and he always drinks Bollinger Champagne.

Why did these companies pay money to have their name in the film?
Some people have Mr Bond as an idol and they want to be alike him and hopefully they will use the same champagne or the same car as he does.
That may sound very farfetched but they actually make more money out of this then they pay for having their name in the films.
MODERN FIRST EDITIONS
Dominic winter book auctions in Gloucestershire.
335

Fleming (Ian). On Her Majesty's Secret Service, 1st ed., 1963, original cloth, d.j., faint stain, 8vo

Bought by The

James Bond 007 Museum in Nybro Sweden.

Fleming (Ian). I hennes majestäts hemliga tjänst, 1: a upplagan., 1963, original tyg, dj, svag fläck, 8vo
FIRST EDITION

Fleming Ian. On Her Majesty's Secret Service, 1st ed.1963

IAN FLEMING'S

'ON HER MAJESTY'S SECRET SERVICE'

1963

GENUINE FIRST EDITION

PUBLISHED BY JONATHAN CAPE OF LONDON

IST EDITION/1ST IMPRESSION OF THIS CLASSIC IAN FLEMING JAMES BOND NOVEL.

JONATHAN CAPE FIRST EDITION BOND BOOKS ARE BECOMING EXCELLENT INVESTMENTS, INCREASING IN VALUE YEAR AFTER YEAR

THIS IS A TRUE IST EDITION/ 1ST IMPRESSION PRINTED 1963

ORIGINAL FIRST PRINT RUN FOR THIS BOOK WAS ONLY 45,000 COPIES MAKING THIS VERSION EXTREMALLY COLLECTABLE AND RARE.

PLOT SUMMARY

JAMES BOND IS NUMBER 007 IN HER MAJESTY'S SECRET SERVICE, ONE OF THE HIGHEST LEVEL INTERNATIONAL SPIES IN BRITAIN . BOND IS ON THE TRACK OF THE VILLAINOUS BLOFELD, WHO ESCAPED BOND IN THE WAKE OF HIS LAST ADVENTURE, WHEN HE FALLS IN LOVE—FOR THE FIRST TIME—WITH THE TROUBLED DAUGHTER OF THE HEAD OF THE FRENCH MAFIA. WITH THE HELP OF THIS NEW ALLIANCE , BOND CATCHES UP WITH BLOFELD AND FOILS A SCHEME THAT COULD FELL THE BRITISH ECONOMY. STILL, HE PAYS THE ULTIMATE PRICE FOR HIS VICTORY, AND BLOFELD ESCAPES HIM YET AGAIN

BOOK CONDITION

BOARDS AND BOOK/PAGES IN VERY GOOD CONDITION FOR AGE , MINOR BUMPING/SCUFFING TO TIP AND BASE OF SPINE

CLEAN ENDPAPERS

SOME MINOR SPOTTING TO TEXT BLOCK EDGES MINIMAL

SMALL INSCRIPTION ON THE OPENING BLANK LEAF

BEAUTIFULLY PRESENTED IN ORIGINAL DUST JACKET WITH CLIPPED CORNERS,

FEATURING THE FABULOUS ARTWORK OF RICHARD CHOPPING, DJ IS IN GOOD CONDITION FOR AGE WITH SOME MINOR WEAR AT TOP AND BOTTOM OF SPINE BUT NEGLIGIBLE - GOOD EXAMPLE

IN MY OPINION THIS IS A VERY GOOD EXAMPLE OF THIS IAN FLEMING CLASSIC AND WOULD MAKE AN EXCELLENT ADDITION TO ANY COLLECTION.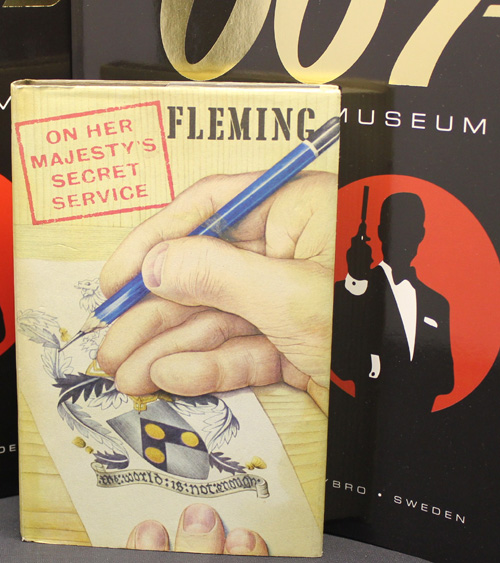 On Her Majesty's Secret Service 1963

Published in 1963 by Jonathan Cape in London
Black cloth, silver lettering , track design on front board
Verso title page states "First Published 1963"
Dust wrapper priced at 16s
The 1st print run was 45,000 copies
There is a signed limited edition of this title
250 numbered copies - but unnumbered copies also turn up
Jonathan Cape's records suggest there should be approx 43 unnumbered
Ten of these were given to Ian Fleming the rest intended as presentation copies
The 1st print run was 45,000 copies
CASINO ROYALE 1953
Live And Let Die (1954)
Moonraker (1955)
Diamonds Are Forever (1956)
From Russia With Love (1957)
Doctor No (1958)
GOLDFINGER (1959)
For Your Eyes Only (1960)
THUNDERBALL (1961)
THE SPY WHO LOVED ME (1962)
On Her Majesty's Secret Service (1963)
You Only Live Twice (1964)
The Man With The Golden Gun (1965)
Octopussy and the Living Daylights (1966)
The Complete Ian Fleming 'James Bond' Collectable First Editions

1. Casino Royale 1953.
2. Live and Let Die 1954.
3. Moonraker 1955.
4. Diamonds are Forever 1956.
5. From Russia with Love. 1957.
6. Dr No. 1958.
7. Goldfinger. 1959.
8. For Your Eyes Only. 1960.
9. Thunderball. 1961.
10. The Spy Who Loved Me. 1962.
11. On Her Majesty's Secret Service. 1963.
12. You Only Live Twice. 1964.
13. The Man With The Golden Gun. 1965.
14. Octopussy and The Living Daylights. 1966.
(intended to be a book of short stories, but Fleming died after only completing two stories).

Ian Fleming's James Bond Titles
Title Published Film Released

1. Casino Royale 1953 1967 and 2006
2. Live and Let Die 1954 1973
3. Moonraker 1955 1979
4. Diamonds Are Forever 1956 1971
5. From Russia With Love 1957 1963
6. Doctor No 1958 1962
7. Goldfinger 1959 1964
8. For Your Eyes Only (short stories) 1960
From A View To A Kill 1985
For Your Eyes Only 1981
Quantum of Solace 2008
Risico
The Hildebrand Rarity
9. Thunderball 1961 1965
10. The Spy Who Loved Me 1962 1977
11. On Her Majesty's Secret Service 1963 1969
12. You Only Live Twice 1964 1967
13. The Man With The Golden Gun 1965 1974
14. Octopussy & The Living Daylights (short stories) 1966
Octopussy 1983
The Living Daylights 1987
The Property Of A Lady

Ian Fleming's Non-Bond books

Title Published Film released

Chitty Chitty Bang Bang 1964 1968
Thrilling Cities 1963
The Diamond Smugglers 1957
"I wanted the simplest, dullest, plainest-sounding name I could think of. James Bond seemed perfect."
-Ian Fleming
While he may be the world's most famous, glamorous secret agent, let's face it, his name is pretty dull. In a way it is fitting, Fleming achieved exactally what he wanted to with the name. He actually found it sitting on his bookshelf in the author of a book entitled "Bird's Of The West Indies." And like that, history was made!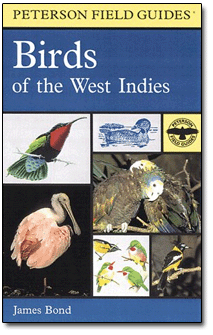 James Bond (January 4, 1900 – February 14, 1989) was a leading American ornithologist whose name was appropriated by writer Ian Fleming for his fictional spy James Bond.

Published 13th April 1953 by Jonathan Cape in London
CASINO ROYALE 1953

Published in 1953 by Jonathan Cape in London
Black cloth & red lettering & heart on front board
Verso title page states "First Published 1953"

Dust wrapper priced at 10s.6d
Rear panel has pencil drawing of Ian Fleming by Bartlett,
with blurb about Fleming's life below
Front flap has blurb with jacket credit immediately below
There should be NO Times review
Rear flap is blank but for title, author, Cape & price in bottom left corner

4,728 copies were bound up, a large number of which went to public libraries


Published 5th May 1954 by Jonathan Cape in London
LIVE AND LET DIE 1954

Published in 1954 by Jonathan Cape in London
Black cloth & gilt lettering & gilt medallion on front board
Verso title page states "First Published 1954"
Dust wrapper priced at 10s.6d
There are 3 states of 1st edition dust wrappers
First State : No credit for jacket design on front flap
Second State : 2 line credit is positioned midway between blurb end & price
Third State : 2 line credit is positioned directly under the blurb

7,500 copies were printed of the 1st edition


Published 7th April 1955 by Jonathan Cape in London
MOONRAKER 1955

Published in 1955 by Jonathan Cape in London
Black cloth & silver lettering
Verso title page states "First Published 1955"
Dust wrapper priced at 10s.6d
There is a "semi issue point" Page 10 last line shoot / shoo
No priority established but I believe shoot to be preferable
There are also 2 paper thicknesses
One text block measures 19mm whilst the other is 15mm
The 15mm is poorer quality and prone to browning

The 1st print run was 9,900 copies


Published 26th March 1956 by Jonathan Cape in London
Diamonds Are Forever 1956

Published in 1956 by Jonathan Cape in London
Black cloth & silver lettering
Verso title page states "First Published 1956"
Dust wrapper priced at 12s.6d

The 1st print run was 14,700 copies




Published 8th April 1957 by Jonathan Cape in London

From Russia With Love 1957

Published in 1957 by Jonathan Cape in London
Black decorated cloth
Verso title page states "First Published 1957"
Dustwrapper priced at 13s.6d
The 1st set of sheets were of poor print quality and rejected by Cape
These were later sent to the book club
This means that, theoretically, the '1st printing' is the book club edition
Note: The Cape sheets have Cape name and logos on title page
Those with 'Book Club' are later printings and the above does not apply
The Cape edition was published first, and is the first edition

The 1st print run was 15,000 copies

Published 31st March 1958 by Cape in London

Dr No (1958)

Published in 1958 by Jonathan Cape in London
Black cloth with or without "dancing girl" figure
Verso title page states "First Published 1958"
Dust jacket priced at 13s.6d
There is no priority established for the dancing girl
From experience, the ones without the figure appear to be rarer

The 1st print run was 20,000 copies

Published 23rd March 1959 by Jonathan Cape in London

GOLDFINGER 1959

Published in 1959 by Jonathan Cape in London
Black cloth gilt lettering , skull embossed on front board
Verso title page states "First Published 1959"
Dustwrapper priced at 15s

The 1st print run was 24,000 copies

Published 11th April 1960 by Jonathan Cape in London

For Your Eyes Only (1960)

Published in 1960 by Jonathan Cape in London
Black cloth, gilt lettering , eye design on front board
Verso title page states "First Published 1960"
Dust wrapper priced at 15s

The 1st print run was 21,712 copies

Published 27th March 1961 by Jonathan Cape in London

THUNDERBALL (1961)

Published in 1961 by Jonathan Cape in London
Black cloth, gilt lettering , skeletal hand on front board
Verso title page states "First Published 1961"
Dust wrapper priced at 15s

The 1st print run was 50,938 copies

Published 16th April 1962 by Jonathan Cape in London

THE SPY WHO LOVED ME (1962)

Published in 1962 by Jonathan Cape in London
Black cloth, silver lettering , with a dagger on the front board
Verso title page states "First Published 1962"
Dust wrapper priced at 15s
There are copies with a quad mark
between the E & M of Fleming on the title page
This mark is not on the proof sheets and was just a spacer that worked loose during the print run
No priority officially established and not of bibliographical importance, but copies with quad mark are very much scarcer and consequently fetch a premium

The 1st print run was 30,000 copies

Published 1st April 1963 by Jonathan Cape in London

On Her Majesty's Secret Service (1963)

Published in 1963 by Jonathan Cape in London
Black cloth, silver lettering , track design on front board
Verso title page states "First Published 1963"
Dust wrapper priced at 16s
The 1st print run was 45,000 copies

There is a signed limited edition of this title
250 numbered copies - but unnumbered copies also turn up
Jonathan Cape's records suggest there should be approx 43 unnumbered
Ten of these were given to Ian Fleming the rest intended as presentation copies

The 1st print run was 45,000 copies

Published 16th March 1964 by Jonathan Cape in London

You Only Live Twice (1964)

Published in 1964 by Jonathan Cape in London
Black cloth, silver lettering , Japanese lettering on front board
Verso title page states "First Published 1964"
Note: "First Published March 1964" is second state
Dust wrapper priced at 16s

The 1st print run was 56,000 copies



Published 1st April 1965 by Jonathan Cape in London
THE MAN WITH THE GOLDEN GUN (1965)

Published in 1965 by Jonathan Cape in London
Black cloth, gilt lettering
Verso title page states "First Published 1965"
Copies exist with a gun in gilt on the front boards
Dust wrapper priced at 18s

The 1st print run was 82,000 copies



Published 23rd June 1966 by Jonathan Cape in London
Octopussy and the Living Daylights (1966)

Published in 1966 by Jonathan Cape in London
Black cloth, gilt lettering
Verso title page states "First Published 1966"
This title was repriced in order to clear remaining copies
Contrary to popular opinion it was not actually remaindered
A London bookseller bought the last 32,000 copies directly.
He gradually sold them for £1.50 each
Copies with unclipped jackets and
no signs of a price sticker are preferred
Dust wrapper priced at 10s.6d

The 1st print run was 50,000 copies