Trivia for
Die Another Day

(2002)
The knife which Jinx uses to cut the fruit while in bed with James is the SPEEDLOCK II, model no. 110106, manufactured by Boker Germany.

Zao's full name was Tang Ling Zao. He was the first Korean henchman to appear in the series since Oddjob in Goldfinger (1964). James Bond's nickname for Zao was: "The Man Who Never Smiles".

The name of the flying activity that James Bond performs to escape from the vehicle stranded on the iceberg cliff is known as kite-surfing.

James Bond's alias during the pre-credits sequence was as arms dealer Mr. Van Bierk.

According to the book "The Bond Files", a UK actor's strike potentially threatened filming during December 2001. However, EON Productions allegedly struck a deal with the UK Actors' Equity Union which meant that production could proceed regardless of the outcome of the dispute had it not been resolved.

Though this film boasts an extravagant car chase on ice sequence, it's not the first time for a Bond movie. Cars on ice have appeared in one form or another in On Her Majesty's Secret Service (1969) and The Living Daylights (1987).

As always with the James Bond series, several rumors anticipated the making of this movie. Some said that former American president Bill Clinton would play the part of an American politician, and that all the movie would be shot in Ireland, as a kind of tribute to Pierce Brosnan's homeland. In these rumors, the plot would be about the kidnapping of the British Prime Minister in Dublin, and the villain would be an American played by Kevin Spacey. Of course, none of this gossip were proved true. Published reports in 2001 indicated that Whitney Houston was being considered for the role of Jinx in this film. At the pre-production stage, Saffron Burrows and Salma Hayek were both considered for roles. It was also rumored that Billy Connolly was asked to play the part of a villain in the teaser sequence, but turned it down. According to television news reports on 11 November 2002, Sean Connery filmed a cameo as James Bond's father. However, this has been denied by producers Michael G. Wilson and Barbara Broccoli, who later said on record it would be pointless to spend the money and effort to get Connery and then not use his scene. Some other rumors said that the movie would be called "Beyond the Ice" or "Final Assignment". Despite that, one rumor that linked director Brett Ratner to the production was true, but the producers preferred a non-American director.

Cameo: [Madonna] [As Verity, the fencing instructor. Her uncredited cameo was the final scene shot during principal photography. When James Bond introduces himself to Gustav before they fight, Madonna was originally to introduce him with the catchphrase, "Bond. James Bond." However, it was later decided that fans would prefer the line coming from Pierce Brosnan.]

Brett Ratner, Stuart Baird and Stephen Hopkins were considered to direct the movie.

Korean actor In-Pyo Cha turned down the role of Colonel Moon.

The second signature James Bond theme, the OO7 theme composed by John Barry had not been heard since Moonraker (1979) until this movie. An electronic version of the 007 Theme was re-worked by composer David Arnold and was heard during the car chase on ice sequence.

Following her Best Actress win at the 2002 Oscars, Halle Berry became the first Academy Award winner to be a leading Bond Girl in the EON Productions official series. Although only just. She won the award while shooting this movie. Kim Basinger who played Domino in the unofficial Never Say Never Again (1983)) won her Oscar for L.A. Confidential (1997) long after she had been a Bond Girl. Judi Dench who plays M also has an Oscar from Shakespeare in Love (1998).

The R1 DVD release commentary reveals that the movie was inspired by the original Ian Fleming novel "Moonraker". The only element of the novel to survive to the end, after a fashion, was the duel between Bond and Graves in a club called Blades. In the original novel, Bond and villain Drax have a different sort of duel in Blades - a game of cards. This is the first Bond film since Licence to Kill (1989) to take inspiration from a Fleming novel. The character of Miranda Frost was originally named Gala Brand. This was the name of the Bond girl in Fleming's novel "Moonraker". Other than the duel between Drax and Bond surviving into "Die Another Day" from Moonraker are: the theme of the villain having plastic surgery to conceal his real identity (in the novel, a grenade exploded in Drax's face) and the villain posing as a patriot by creating a space device claiming to help the government when it is actually a weapon.

When MGM, EON and Danjaq heard about the third Austin Powers movie, Austin Powers in Goldmember (2002), a title they believed to be too similar to their Bond classic Goldfinger (1964), legal wranglings ensued. New Line was barred from using the title until a mid-June hearing. The 11 April 2002 out of court settlement required the trailer for Die Another Day (2002) be played at screenings of "Austin Powers in Goldmember" and MGM have approval over titles for any future James Bond spoofing Austin Powers titles. As such, the movie could not be called "Goldmember" but "Austin Powers in Goldmember" and it didn't get its title until three months before its release.

Although it ranked fifth in the box office on its opening weekend in South Korea, there was protest at the movie's depiction of Americans giving orders to the South Korean military. The film dropped out of the top ten by its second week and one theater in Seoul pulled it from the screens in response to the protests. Some smaller theaters that usually get second-run movies refused to pick it up.

When confronting Bond, Miranda Frost says, "I know all about you, 007. It's sex for dinner and death for breakfast." The line "Death for breakfast" is the title of Chapter 11 in the Ian Fleming novel "On Her Majesty's Secret Service".

The film also contains references to the James Bond novels in several points: the cigarette poster of a sailor seen behind John Cleese is referenced in "Thunderball", the basic plot is from "Moonraker" and the sheet of protective glass between Bond and M references "The Man With The Golden Gun".

The license plate number of the pinkish brown 1957 Ford Fairlane convertible, the fast car that James Bond requests and drives in Cuba, was BM 84763.

Bond (while talking to Q), refers to what looks like a fatal injury to M in a simulation program as a "flesh wound" - in Monty Python and the Holy Grail (1975), John Cleese refers to the cutting off of various body parts in a battle with Graham Chapman as "merely a flesh wound." It's a common enough phrase, but the Python connection does give it more resonance.

First time that James Bond sports a beard in a James Bond movie. Pierce Brosnan is shown having more than just a few day's growth after being held captive for a considerable amount of time. The closest shave prior to this was the James Bond send-up OK Connery (1967) where Sean Connery's brother Neil Connery had a beard spoofing his brother's James Bond image.

Trailers for Austin Powers in Goldmember (2002) were played at screenings of this film due to an out-of-court settlement among MGM, Danjaq and New Line. All promotional materials (including online trailers) bearing the movie's original title, "Austin Powers in Goldmember", were withdrawn in late January 2002. MGM and Danjaq, which control the James Bond license, obtained a cease-and-desist order from the Motion Picture Association of America (MPAA) arbitration panel on the grounds that New Line was attempting to trade on the James Bond franchise without authorization. The matter went to arbitration and the film was known briefly as "The third installment of Austin Powers" until the matter was settled on 11 April 2002. MGM agreed that New Line could use the original "Goldmember" title on condition that it had approval of any future titles that parodied existing Bond titles.

The registration identifier of Zao's blue escape helicopter at the DNA Replacement Clinic was CU-H13.

Zao's operation occurred in Room 11 at the DNA Replacement Clinic. The number of patches on Zao's torso from the operation equaled six.

Jinx aka Jacinta Johnson's medical file at the DNA Replacement Clinic named her as Jacinta Jordan and born in 1973 making her aged approximately 29 years of age in the time of the film.

The name of the DNA Replacement Clinic in Cuba was The Alvarez Clinic or La Clinic Alvarez. It's setting in the film was on Cuba's Isla de Los Organos.

The literal translations of some of this film's foreign language titles include "Death Can Wait" (Finland and Italy); "A New Day To Die" (Brazil), "You Die in Another Day" (Portugal); "Another Day To Die" (Argentina, Peru & Venezuela); "Death Comes Tomorrow" (Poland); "Don't Die Today" (Czech Republic) and "Die, But Not Today" (Russia).

SFX Supervisor Chris Corbould ensured that no part of the real forest in Iceland was destroyed by explosions - the trees his team used were unsold Christmas trees.

The fuchsia crystal dress Jinx wears during the Ice Palace party was designed by Donatella Versace. Costume designer Lindy Hemming saw a similar Versace design in a fashion magazine and requested Donatella to make one to Halle Berry's specifications.

The name of the hotel that James Bond visits in Hong Kong was The Rubyeon Royale Hotel. The name "Rubyeon" is a conflation of two words: Ruby and Eon. The first word "Ruby" represents the Ruby Anniversary relating to the second word "Eon" meaning EON Productions. "Royale" is a reference to "Casino Royale", the first Ian Fleming James Bond novel and incidentally, Casino Royale (2006) would become the next film in the 007 film series. As such, the "Rubyeon Royale" phrase references the 40th Anniversary of EON Production's James Bond series.

The check made out to The Alvarez Clinic by Jinx and signed by Jacinta Johnson was for $2 million. It was dated 11/11/2002 and the name of the bank was the Bank of the Cayman Islands, Main Street, Grand Canyon branch. The account number was 20-00-01.

NSA stood for the American National Security Agency. Its motto was Wisdom - Strategy - Strength.

The license plate number of Zao's green Jaguar XKR was OR 203.

The license plate number of James Bond's Aston Martin Vanquish was KEO2 EWW.

The Ice Palace in the film was inspired by the real-life Ice Hotel in Jukkasjärvi, Kiruna, Sweden. Producer 'Barbara Broccoli (I)' first saw a photo of it in a magazine while traveling on a plane and thought it would make a good setpiece for a Bond movie. The actual location is 200 kilometers north of the Arctic Circle in Sweden. Ice hotels or similar structures like an Ice Palace, Ice Museum, Snow Castle or Ice Castle have existed in Norway, Finland, Canada, Romania and Russia, but such a building has never existed in Iceland, where some of the ice palace environs were shot.

While the film negative went through the traditional photochemical printing process, the entire first reel, including the opening pre-title sequence, was instead digital graded. The digital lab (Framestore CFC) also worked on the Hovercraft battle sequence, creating a gritty look with enhanced explosions through to Bond's eventual release from captivity as well as a key sequence that would normally have required sky replacements.

Cameo: [Michael G. Wilson] This is the first ever credited acting cameo performance in a James Bond film for producer Michael G. Wilson as General Chandler. He can also be seen in an uncredited cameo as a Man leaning against a car in Cuba. Wilson had made an uncredited cameo appearance in every EON Productions James Bond movie since The Spy Who Loved Me (1977) as well as doing an early one in Goldfinger (1964). His first ever screen credit for acting though was not for this movie but for All the Way Home (1971) (TV).

Only five cars in the entire movie do not belong to either Ford or Ford's Premier Automotive Group (Aston Martin, Jaguar, Land Rover, Volvo). There are two Ferrari F355's, a Porsche 911, a Mercedes SL and a Lamborghini Diablo. All of these cars (except possibly the Merc) get damaged / destroyed / dropped out of the back of a plane. It is also worth noting that none of the other manufacturers' cars are examples of the latest models, whereas Ford is using all of its latest or prototype models.

The title is derived from a phrase from the poem "A Shropshire Lad" by A.E. Housman: "But since the man that runs away / lives to die another day". In the movie, James Bond says to Gustav Graves, "So you live to die another day." This is a reference to the start of the movie when it was believed that the villain under his alternate persona had been killed.

The frozen lake in Iceland that is the location for some car chases, does not freeze very often naturally. This is due to its closeness to the sea and its high salt content. When the filmmakers had troubles getting the Icelandic lake to freeze properly, they considered filming the car chase scenes on ice in New Zealand. To rectify this situation the river that links the lake to the sea was dammed and within two days the entire lake was frozen to a depth of over 2 meters. Once they solved that problem, filming could take place in Iceland as planned.

The opening surfing sequences were filmed at a location in Hawaii known as "Jaws". This is an obscure reference to Jaws, the villain in The Spy Who Loved Me (1977) and Moonraker (1979).

The route diagram on the station wall in the disused tube station where Q introduces Bond to the new Aston indicates that the station is on the Piccadilly line and that the next station is Hyde Park Corner followed by Knightsbridge etc. Reference to the current tube map suggests that this station is Green Park (the station before Hyde Park Corner). However there is a real disused station on the Piccadilly Line between Green Park and Hyde Park Corner. It was called Down Street and was closed in the 1930s. It was used during the war as a temporary Cabinet War Rooms, and later by the Railway Executive as offices. Even today, much of the internal infrastructure is complete, but it could not be used in the way shown in the film because, although the station is closed, the tracks through it are still in normal daily use by Piccadilly line trains.

Cameo: [Deborah Moore] [The daughter of former James Bond actor Roger Moore makes a brief appearance in the film as an Air Hostess on the British Airways flight.]

The large hovercraft in the pre-title sequence is a British-made Griffon 2000TD

A knee injury to Pierce Brosnan delayed shooting for a few weeks.

Only the second Bond film to feature James Bond's office. It was last seen in On Her Majesty's Secret Service (1969).

When Q explains how the Vanquish works, he is explaining technology that the US Air Force is actually developing for use in a new "daylight" stealth aircraft. However, the "invisibility" capability is only useful at extreme distance (miles), and would not in any way be as good as depicted on the car in this film.

When Bond enters the Cuban clinic through the hidden door, you can hear a sample of the brainwashing noise used in The Ipcress File (1965). A nod to another British agent, Harry Palmer.

For the first time, the famous gun barrel sequence now includes a bullet zooming by after Bond fires.

Following her Best Actress win at the 2002 Oscars, Halle Berry became the first Academy Award-winner to be a "Bond Girl", although only just - she won the award while shooting this movie (Kim Basinger (Never Say Never Again (1983)) won her Oscar for L.A. Confidential (1997) long after she had been a "Bond Girl", and "Never Say..." isn't part of the official Bond series anyway).

Some location filming took place at 'The Eden Project' near St Austell, Cornwall in the United Kingdom in the first week of March 2002.

Sequences featuring a Korean beach were partly filmed at Holywell Bay near Newquay in Cornwall, United Kingdom over several evenings in February/March 2002. The local Holywell surf hut was transformed into a North Korean pill box and a small forest of pine trees were planted in the dunes behind to mimic a remote shore.

Both the Aston Martin and the Jaguar were completely stripped of engine and running gear. These were replaced by the Ford V8, 4WD kit and 4spd Auto 'box from Ford's Explorer. This was to help them perform on ice.

The Jaguar driven by Zao is not a production car, but only a prototype supposedly showcasing the next generation XKR. The design has now been changed, however, so the car in the film will never see production.

For the sword fight, film makers decreased the film speed to make it look as if the actors were moving faster than they actually were.

Sequences where James Bond travels in 1st Class aboard a passenger plane, and where he holds onto the front wheel of the plane as the landing gear deploys, and finally walks from the aircraft after it has landed, were filmed in March 2001 in British Airways engineering bases at Heathrow Airport, using green screens and a fan.

The fictional abandoned station on the London Underground where Bond meets M, Vauxhall Cross, is a reference to the address of the real MI6 headquarters in London, located at 85 Vauxhall Cross (approximately five minutes' drive from where Bond enters the station).

The futuristic weapon that Colonel Moon uses during parts of the chase after the opening sequence did really exist when the movie was made, at least in prototype form. It's a Heckler and Koch OICW (Objective Individual Combat Weapon), a weapon developed as the future's infantry assault rifle as part of the US Army's "Soldier 2000" program. It consist of a grenade launcher mounted on top of a 'regular' 5.56mm (.223) caliber assault rifle, as well as a digital camera within the optic sights. This digital camera is supposed to be linked to a display within the soldier's helmet, enabling him to look/shoot around corners, as well as transmitting live footage of a combat situation to his troop commander or a higher superior.


The V12 engine in the Aston Martin Vanquish was switched with a small block Ford V8 to make room for machine guns etc. The 6-speed sequential transmission was also changed to a 3-speed auto transmission.

The magazine with the picture of Gustav Graves that Bond reads on the British Airways flight is the real in-flight magazine for British Airways. Called "High Life", the edition seen was for the month of November 2002. The Magazine in fact interviews the actor playing Graves about his part and includes an article on all previous Bond Movies and their respective stunts.

A huge 20,000-watt light array which took a week to construct was used for the Icarus demonstration scene.

The device used to identify Bond in the beginning is a Sony Ericsson P800 PDA/Mobile Phone. Though it would require some custom programming to get that fancy look on the screen (not to mention someone on the receiving end making the actual visual match), it is actually possible for it to perform that task.

In the first scene at the North Korean beach, two North Korean soldiers are talking. It means "What the hell is the taste of this cigarette? / I can give you Chinese tobacco."

Icarus was originally called Solaris but was changed when the producers found out that Solaris (2002) was in production.

The painting that gets slashed during the swordfight between Bond and Graves is a reproduction of Thomas Gainsborough's famous "Blue Boy" from 1770. The original "Blue Boy" hangs in the Huntington Library (San Marino, Calif.) The reproduction was hand-painted by Lyons Corner House Fine Art Reproductions in London.

The first Bond movie to open on an even-numbered year (2002) since The Man with the Golden Gun (1974).

According to the book "The Bond Legacy", it was decided to delay production of the film in order to have a 2002 release date, in part to coincide with both the 40th anniversary of the first James Bond film, but also the 50th anniversary of the writing of the first Bond novel.

A sequel was planned, featuring Halle Berry's character Jinx as the lead. Neal Purvis and Robert Wade wrote for two months and even a director was hired (Stephen Frears). However, after the failure of other female-character-driven action films like Charlie's Angels: Full Throttle (2003) and Lara Croft Tomb Raider: The Cradle of Life (2003), MGM pulled the plug on the project. Halle Berry has said that she would love to return as Jinx in another Bond movie. She has allegedly said that she would like to do it so much she would do the role for free.

Some of the actresses mentioned during the production as potential Bond girls were Catherine Zeta-Jones, model Kelly Brook and dancer Jean Butler.

Iceland had a noticeable increase of tourist interest in year following the film's premier, mostly from people seeking to stay in an ice hotel such as shown in the film. No such structure exists in Iceland, which is not nearly cold enough for such a building in the first place, despite its name.

Due to Philips products being known as Norelco in the USA, the Philips Domestic Appliances and Personal Care (DAP) unit of Philips provide Bond shaving with a Philishave Sensotec shaver in non-USA prints and a Norelco Spectra shaver for the USA.

Will Yun Lee plays a character named Colonel Moon. There is a James Bond novel by Kingsley Amis, written (under the pseudonym Robert Markham) shortly after Ian Fleming's death, entitled "Colonel Sun". It was Amis's only Bond novel. The full name of Colonel Moon is Colonel Tan-Sun Moon, making the connection to Amis' novel even more explicit.

The UK premiere was in the Royal Albert Hall in London in presence of Her Majesty Queen Elizabeth II.

The movie set a new record for merchandising, with $120 million worth of deals with 24 various companies for product placement and/or tie-ins. These included vehicles Aston Martin Vanquish, Jaguar XKR convertible, 2003 James Bond Edition Ford Thunderbird and Ski-Doo snowmobile; drinks Bollinger champagne, Finlandia vodka, Heineken beer, 7 Up, and Ty Nant curvy PET bottles; Revlon cosmetics OO7 Color Collection; Brioni suit tailoring; Electronic Arts video game James Bond 007: Nightfirex (2002) (VG); British Airways and Samsonite luggage; Mattel OO7 Barbie Collector's Edition set; Omega Seamaster Swatch watches; Phillips Electronics Philishave Sensotec and Norelco Spectra shavers; Kodak cameras; Vodaphone and Sony Ericsson mobile phones; VISA credit cards; Energizer batteries; Phillips heart rate monitor; Sony security systems, TV cameras and laptop PCs; and retail outlets Circuit City and Best Buy.

The book that 007 picks up from the Cuban sleeper along with a revolver, is "A Field Guide to Birds of the West Indies," written by James Bond. Ian Fleming, an avid birdwatcher, based his famous spy character on the author's name.

The character Wai Lin, played by Michelle Yeoh in Tomorrow Never Dies (1997), was originally supposed to make her return, aiding Bond in Hong Kong, but no arrangement could be worked out with the actress and she was replaced by Chinese Intelligence agent (and hotelier) Chang. Wai Lin's presence is confirmed by an extra on the DVD release concerning the writing of the script: Barbara Broccoli is shown leafing through an early script, and it clearly contains lines for Wai Lin.

Pierce Brosnan used a Walther P99 with a fake suppressor and custom-made leather holster. Ten of these models were supplied by Bapty UK, all in the same serial number range. Serial #B8041837, B8041841, B8041852, B8041854, B8041861, B8041868.

This is the first Bond film to feature an Aston Martin as the Bond car since The Living Daylights (1987).

This is the first time someone other than Desmond Llewelyn has played "Q." Llewelyn passed away in 1999 and John Cleese (who plays "Q's Assistant" in The World Is Not Enough (1999) was named as his successor. However, in Dr. No (1962), Peter Burton briefly played Major Boothroyd (Q's real title) when Bond was ordered to trade in his Beretta for the newly issued Walther PPK.

When Q (John Cleese) walks behind the invisible Aston Martin in the otherwise abandoned Underground station, due to the light refraction effect, he appears briefly to do a "silly walk".

When Bond first meets with Q, there are several props from previous 007 movies around Q's workshop, including: the alligator boat and mini Jet from Octopussy (1983), the briefcase from Dr. No (1962), and the shoe/knife featured in From Russia with Love (1963).

Cameo: [Oliver Skeete] [The West Indian born show-jumper as a Concierge at the Blades Fencing Club.]

A number of titles of movies and TV shows went on to spoof or reference this film's title after it was released. These include Di Another Day: Diane Chambers from A-Z (2004) (V); Just Another Day (2006) (TV); and Pray Another Day (2003).

Vehicles featured included a silver Aston Martin V12 Vanquish also an invisible car in the movie; a Russian Antonov An-124 airplane; Jinx's drives a red 2003 coral Ford Thunderbird in Iceland; 007's drives Raoul's brown & white Ford Fairlane in Cuba; Zao's green Jaguar XKR for car chases in Iceland; two Switchblade Gliders (aka PHASST - Programmable High Altitude Single Soldier Transport); a Sunseeker 48-50 speedboat; an Ilyushin Il-76 airplane; Gustav Grave's Ice Dragster; a black Notar MD-600N helicopter for an escape from the Antonov; Osprey Hovercraft; and black and yellow Bombardier Ski-Doo MX ZREV snowmobiles.

Aged 33, Toby Stephens was the youngest main Bond villain to date. Stephens was 16 years younger than Pierce Brosnan who was 49 at the time. This is not the first time a Bond actor was older than the main villain on a age gap. In 1985, Roger Moore at 57 was also 16 years older than his main villain Christopher Walken, who was 42 at the time. In Moore's first outing as Bond in Live and Let Die (1973), the main villain was played by Yaphet Kotto who was 36, being the first Bond villain actor to be younger than the Bond actor. Brosnan has been older than all of his main villains, except for Jonathan Pryce in Tomorrow Never Dies (1997).

The Royal Charity World Premiere of Die Another Day (2002) was held on 18th November 2002 at London's Royal Albert Hall, South Kensington, London in the presence of Queen Elizabeth II and Prince Philip of England. The venue was transformed into an ice palace for the night. The Gala Charity Premiere Benefit was also the The Royal Annual Film Performance of 2002, the 56th and the first ever for a Bond movie. It was also the second to be resided over by Queen Elizabeth II who had attended the premiere thirty-five years earlier for You Only Live Twice (1967). The Gala Charity Premiere Benefit was held in aid of the Cinema & Television Benevolent Fund (CTBF) of which the Queen is patron. A parallel premiere was also held on the same night at London's Leicester Square's Empire UCI Theatre.

Henchmen and henchwomen in the movie included Zao, Miranda Frost, Mr. Kil, Vladimir Popov (aka Vlad), Van Bierk and Peaceful Fountains of Desire.

The movie's title song "Die Another Day" sung by Madonna debuted in the US Charts on 19 October 2002 and peaked at the No. #8 spot. The song was nominated both for a Golden Globe Award for Best Original Song and a Golden Raspberry Award for Worst Original Song.

The ice theme forms a major part of this movie's marketing yet no such icy wording formed the movie's eventual title. A number of James Bond stories however do evoke snow, cold or ice. These include the 1984 James Bond comic "Polestar" and the John Gardner James Bond novels "Icebreaker" (1983) and "Cold" (1996) whilst episodes of "James Bond Jr." (1991) are called "James Bond Jr.: Avalanche Run (#1.38)" (1991) and "James Bond Jr.: The Thing in the Ice (#1.59)" (1991).

The Royal Charity World Premiere of Die Another Day (2002) was held on 18th November 2002 at London's Royal Albert Hall, South Kensington, London in the presence of Queen Elizabeth II and Prince Philip of England. The venue was transformed into an ice palace for the night. The Gala Charity Premiere Benefit was also the The Royal Annual Film Performance of 2002, the 56th and the first ever for a Bond movie. It was also the 2nd to be resided over by Queen Elizabeth II who had attended the premiere thirty-five years earlier for You Only Live Twice (1967). The Gala Charity Premiere Benefit was held in aid of the Cinema & Television Benevolent Fund (CTBF) of which the Queen is patron. A parallel premiere was also held on the same night at London's Leicester Square's Empire UCI Theatre.

Up until the advent of Casino Royale (2006), this was the biggest grossing James Bond film.

Rick Yune's diamond-encrusted make-up took 3 hours to apply.

Halle Berry's bikini scenes were shot in Cadiz and were not sunny and warm as they appeared onscreen but quite the opposite. Berry had to be wrapped up in thick towels in between takes to avoid catching a chill.

Debris from a smoke grenade landed in Halle Berry's eye during filming. The actress required a 30 minute operation to remove it.

Another reason why the film didn't go down well with the South Koreans was a lovemaking scene set close to a statue of Buddha.

20 companies paid $70 million to have their products featured in the film, a record at the time.

Roger Moore actively voiced his displeasure with the film, citing the invisible car and the weak CGI as being a low for the series.

The first Bond movie to be released on a 2-DVD pack.

Other names bandied about during pre-production included "Cold Fusion", "Black Sun" and "Beyond the Ice".

The first Bond film to feature a cameo by the performer who sings the theme song.

Filming had already begun when Lee Tamahori decided he wanted a car chase through the ice palace set. His set designer Peter Lamont had to rebuild the set with steel girders to support the cars racing around it.

The North Korean sequences were deliberately bleached of color to emphasize the inhospitality of the location.

Editor Christian Wagner is the first non-English editor to work on a Bond film.

Although the production went to Cuba to source locations, they were unable to shoot there due to US legislations so Cuba was recreated in a combination of Pinewood Studios outside London and Cadiz in Spain.

The love scene between Bond and Jinx - the first time in the series in which we actually see 007 having sex as opposed to a post-coital scenario - had to be trimmed for the American market.

One of the few Bond films to openly use alternate source music - in this case, The Clash's "London Calling". The previous film to do this was A View to a Kill (1985) which utilized the Beach Boys' "California Girls".

The London Underground tube station platform where Bond meets with M is not a real one. It's simply too difficult to transport all the necessary equipment down there so production designer Peter Lamont built one on a soundstage.

The ice palace took approximately 6 months to construct.

The scene where Gustav Graves first demonstrates Icarus to his party guests required the most amount of lights ever required in a British film.

Rosamund Pike had to leave the film set for one day to go to her English Literature graduation ceremony at Oxford University.

The hovercraft chase sequence was filmed nearby to a working airport. Pilots are understandably nervous about seeing gunfire and explosions at an airport so a schedule had to be worked out whereby filming could take place whenever the airport wasn't too busy.

Second unit director Vic Armstrong had real trouble finding stunt drivers who were able to handle a hovercraft.

For his scenes as the captive Bond, Pierce Brosnan spent 3 hours in make-up every day, having a false beard and long hair applied.

Halle Berry wasn't the only member of the cast and crew to do well at the Oscars during filming. Sound recordist Chris Munro also won the Oscar for Best Sound for his work on Black Hawk Down (2001). The award was presented to him by Halle Berry.

One of the extras in the fencing scene is Justin Lewellyn, son of Desmond who of course played Q in most of the previous Bond films.

Although a quarter of the film is set in Iceland, none of the main cast actually went there. Only the second unit and stunt crews did.

Less than a month after the film's release, UK fencing clubs saw an increase in the number of people interested in taking up the sport.

Rosamund Pike's very first acting on screen was her scene opposite Judi Dench, something she found to be overwhelmingly daunting.

All the Aston Martins used in the ice high speed chase had to be converted to four wheel drive.

Four weeks before filming began, the only parts that had been cast were the regulars - Pierce Brosnan, Judi Dench, Samantha Bond, Colin Salmon and John Cleese.

One of the problems the crew encountered when shooting the North Korean segments in England was that there were only 2 fully qualified Asian stuntmen in the UK. To get round that, they tapped local martial arts clubs for more talent.

The opening surfing sequence was shot off the coast of Maui on Christmas Day 2001.

Rosamund Pike was cast 5 days before the start of principal photography.

Pierce Brosnan's knee injury which he incurred in the opening hovercraft segment prompted the production to stop shooting for 7 days. This was the first time any Bond movie has had to shut down production due to injury.

Gustav Graves' diamond mine/ giant greenhouse was partly filmed at the Eden Project in Cornwall and a recreation at Pinewood which housed 5000 plants. They had to be watered twice a day.

Gustav Graves' parachute jump over Buckingham Palace could never happen in real life. Any plane that flies within a kilometer of the palace will put Britain's anti-terrorist units and the Civil Aviation Authority on full alert. Location manager Simon Marsden had to negotiate long and hard with the appropriate authorities to secure permission to film in this most sensitive of locations. His negotiations were further complicated by the death of the Queen Mother.

Toby Stephens went on to play James Bond himself in a BBC Radio adaptation of Dr. No.

Pierce Brosnan's last appearance as James Bond. The role was taken over in 2006 by 'Daniel Craig' for Casino Royale (2006).

Colin Salomon Robinson in Die Another Day
Damian Falco (Michael Madsen)
Datastream
Character: Damian Falco, NSA Chief
Actor: Michael Madsen
Movie: Die Another Day
Status: Retired
Appearance: Tall and medium build with wavy, dark and slightly receding hairline. Often seen in crisp dark suits.
Date of Birth: 25th September 1957
Height: 6'2" (1.88m)
Place of Birth: Chicago, Illinois, USA

"Look at him, you'd think he was some kind of a hero."
Pleased To Meet You
Falco is present when the is retrieved from the depths of North Korea, recovered by Robinson and swapped for the terrorist Zao. Although the British spy and the NSA chief would not meet until the climax of the "Die Another Day" mission, Falco makes it his business to keep tabs on the unorthodox MI6 agent.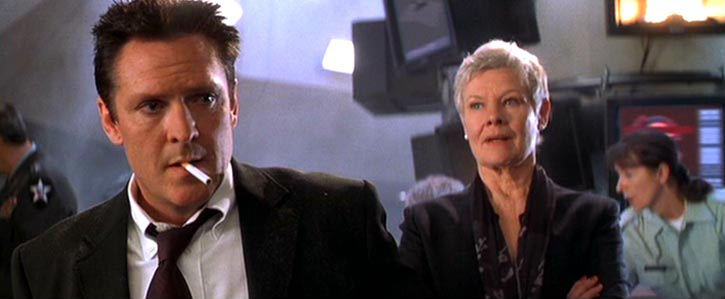 Damian Falco (Michael Madsen) M JUDI DENCH
In the 2002 James Bond movie Die Another Day, Halle Berry plays Giacinta "Jinx" Johnson, an intelligence agent who collaborates with James Bond to track villain Gustav Graves. This was the 20th movie in the James Bond franchise.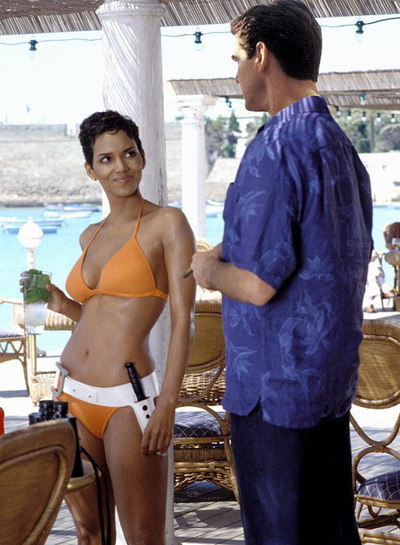 Berry told the press that she felt that her character was another step in the modernization of women in the Bond movies. Nonetheless, she manages to be breathtaking in a bikini as she emerges from the ocean in a scene reminiscent of Ursula Andress' bikini scene in Dr. No.
In the movie, Bond is betrayed during a mission. He is then fired under accusations of having leaked important information to North Korea. But he is reinstated in the MI6 and discovers a plot to restart the war between North Korea and South Korea by use of a mirrored satellite that can be used to burn a swath across the demilitarized zone between the two Koreas. Berry plays Bond's ally and collaborator.
Berry grew up in Ohio, and after participating and placing in several beauty pageants she took small television roles. But her first big feature film role was as a drug addict in Spike Lee's 1991 movie Jungle Fever. In 1999 she won an Emmy and a Golden Globe for her portrayal of Dorthy Dandridge in the HBO biopic Introducing Dorothy Dandridge. She then won an Academy Award as best lead actress in 2001 for her role in the movie Monster's Ball.

Barbara Broccoli producer Michael G. Wilson Die Another Day 2002

Jinx - Halle Berry Die Another Day 2002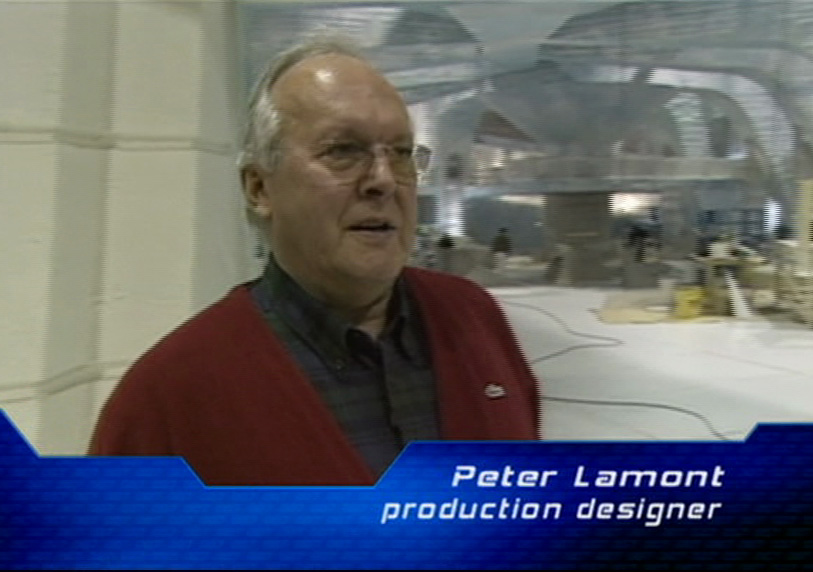 Peter Lamont production designer Die Another Day 2002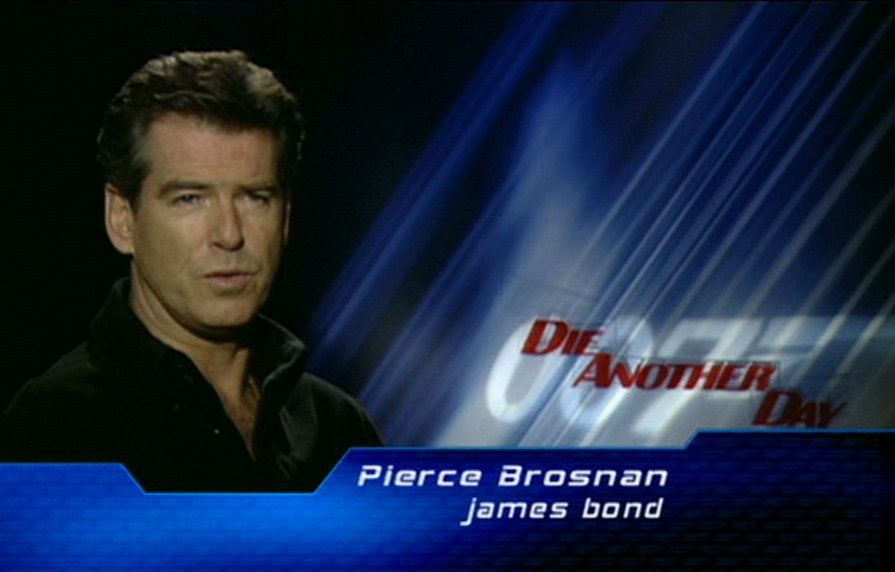 Pierce Brosnan - James Bond Die Another Day 2002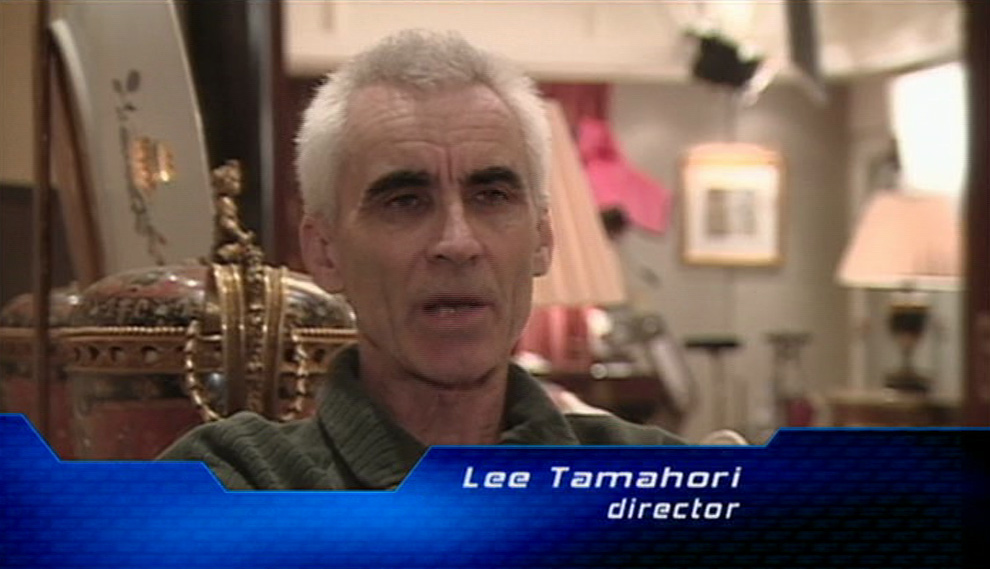 Lee Tamahori director Die Another Day 2002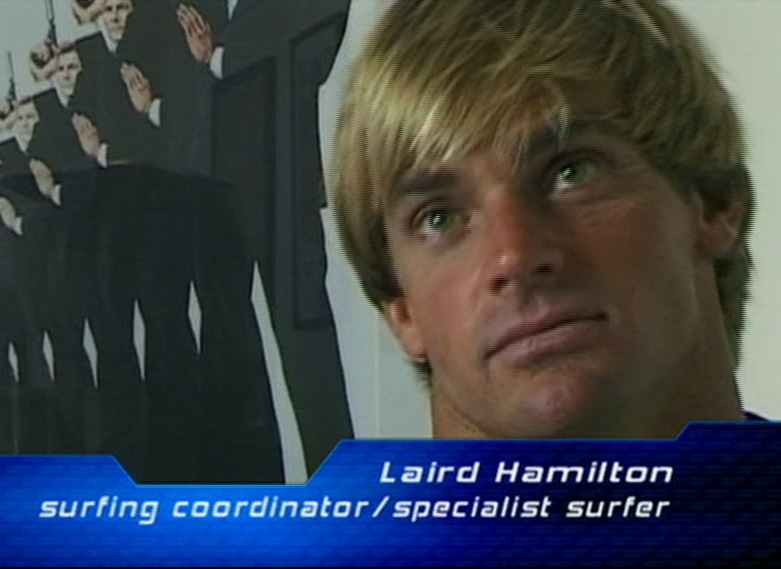 Liard Hamilton surfing coordinator/ specialist surfer Die Another Day 2002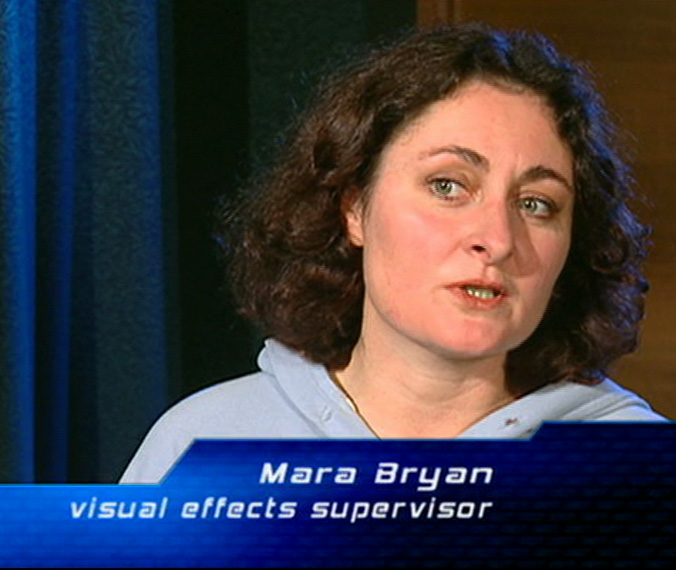 Mara Bryan visual effects supervisor Die Another Day 2002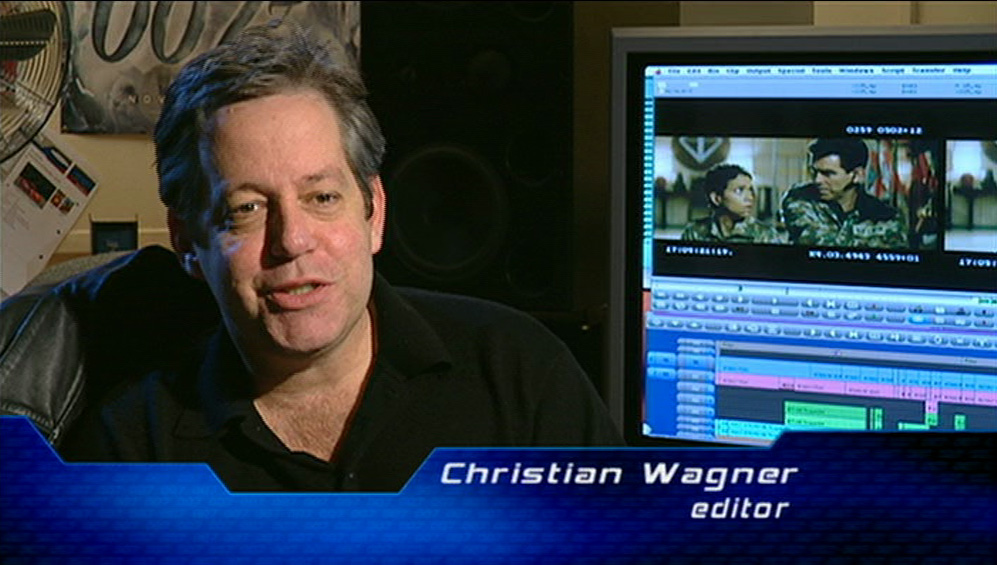 Christian Wagner editor Die Another Day 2002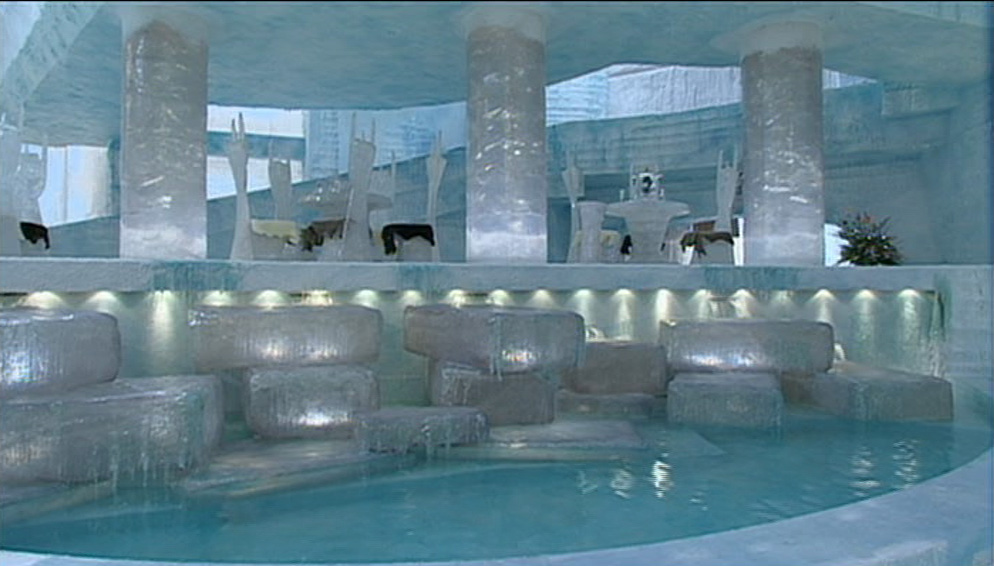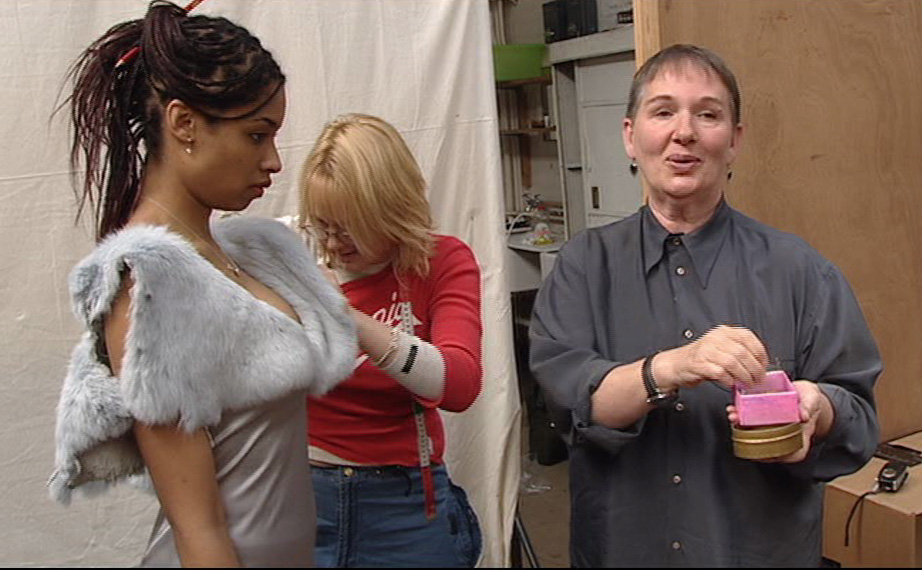 The costume designer, Linda Hemming for James Bond movies Die Another Day 2002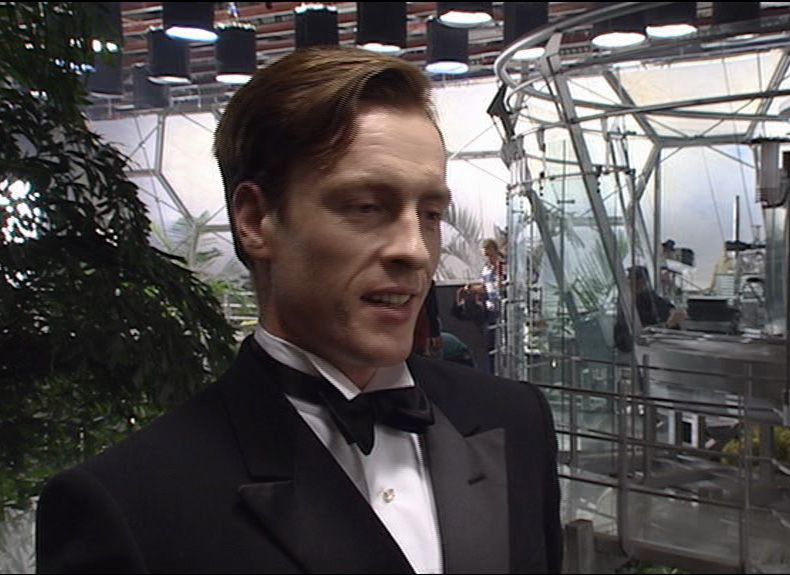 Gustav Graves - Toby Stephens Die Another Day 2002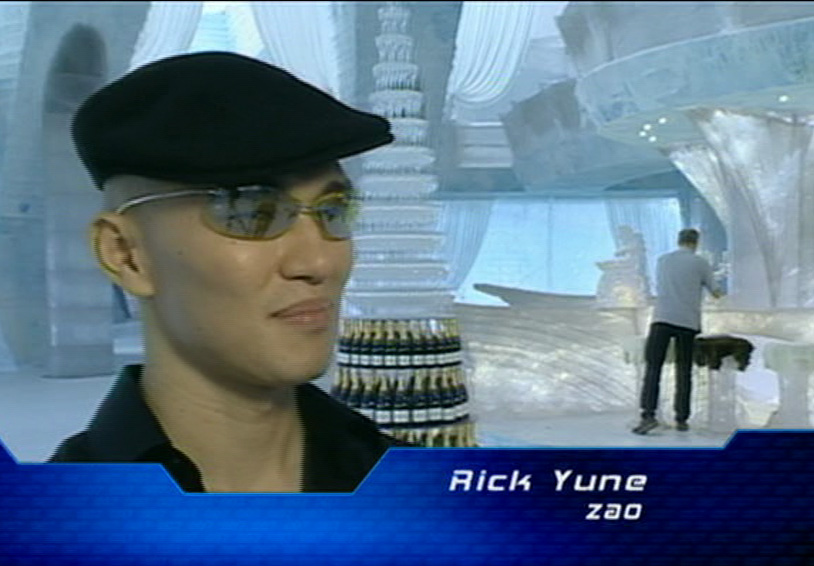 Rick Yune - Zao Die Another Day 2002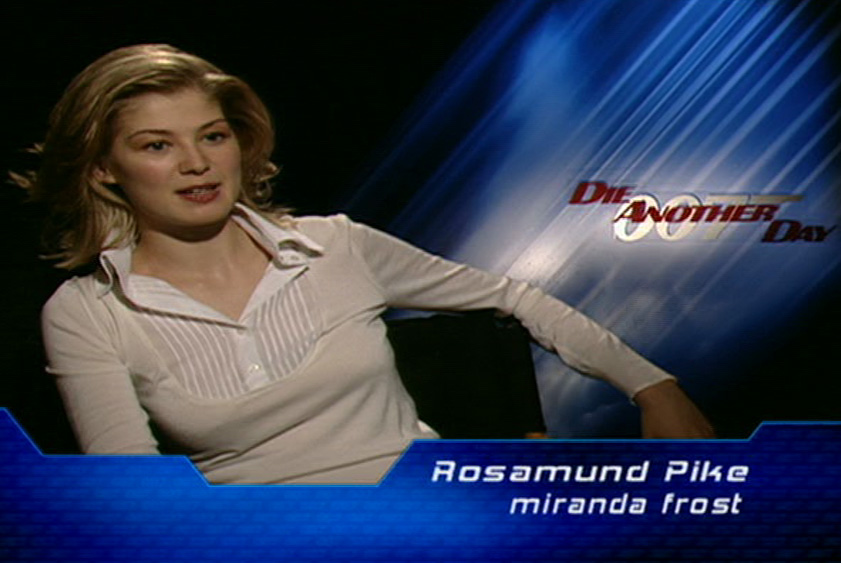 Rosamund Pike - Miranda Frost Die Another Day 2002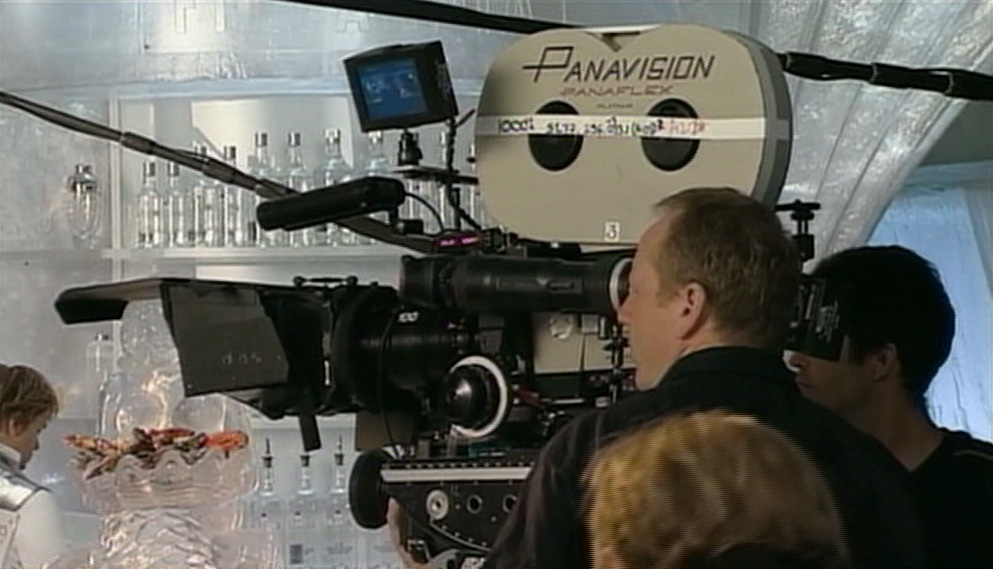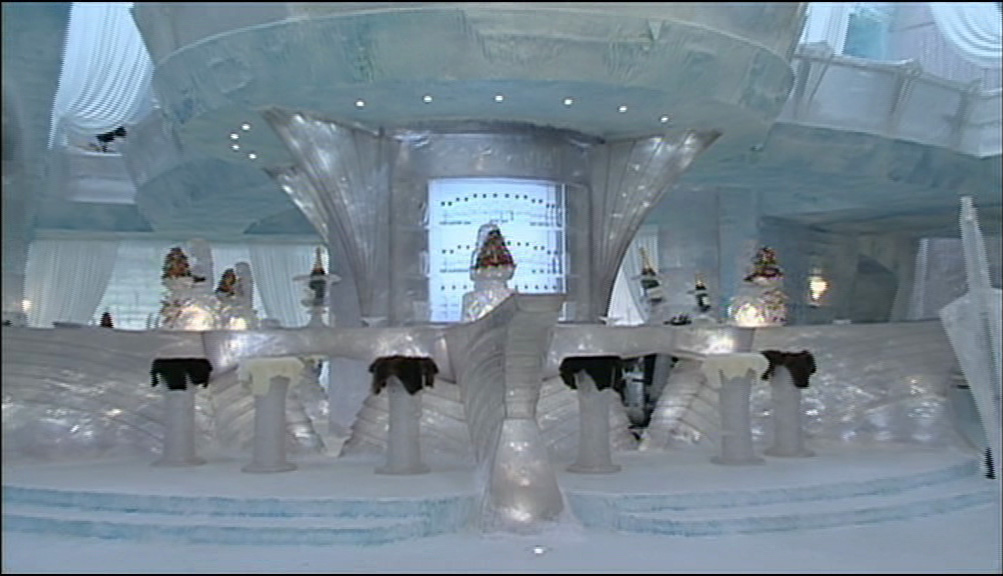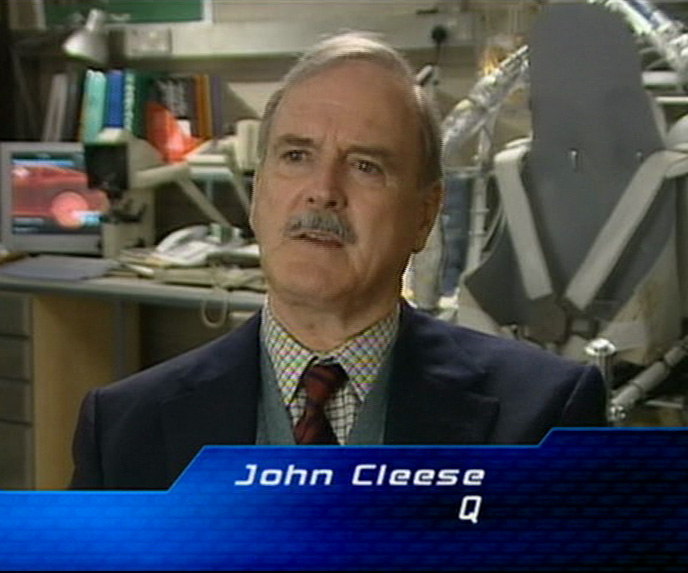 John Cleese Q in Die Another Day 2002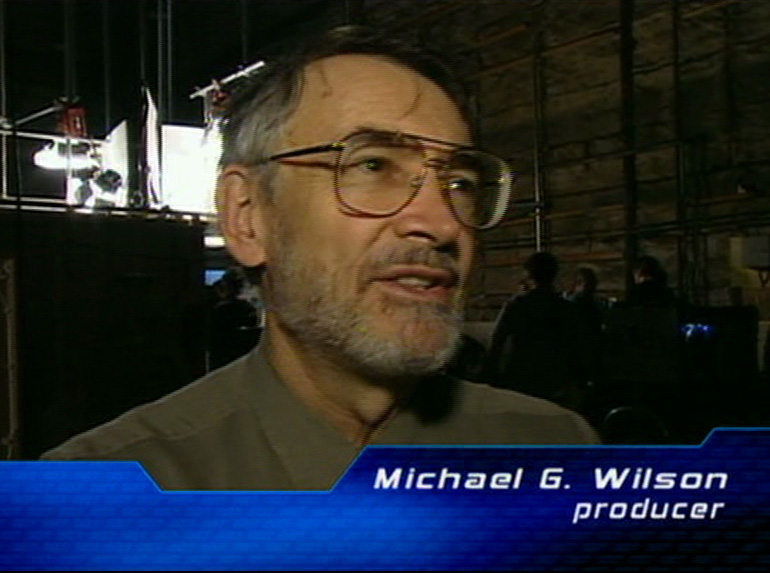 Michael G. Wilson producer Die Another Day 2002