Dawes

Played by: Unknown

Description: The first of three victims during the pre-title sequence, Dawes is the British UN advisor who is killed by a high frequency sound penetrating his brain.

Kananga/Mr. Big

Played by: Yaphett Kotto

Description: Kananga is the sinister foreign minister of San Monique. While he poses as a mild-mannered third world diplomat, Kananga is actually a megalomaniacal drug smuggler who is about to corner the North American heroin market.

Solitaire

Played by: Jane Seymour

Description: The mystical mistress of tarot cards and Kananga, Solitaire has the supernatural power of the obeah-the 'second sight.' After being tricked by Bond, Solitaire loses her power, falls in love with Bond and eventually helps him destroy Kananga and his drug empire.

Hamilton

Played by: Robert Dix

Description: Hamilton is a British agent on loan to the CIA who is assassinated in New Orleans during the pre-title sequence.

Hamilton's Killer

Played by: Unknown

Description: This man stabs Hamilton in New Orleans during the Jazz Funeral.

Baines

Played by: Dennis Edwards

Description: The final pre-title victim, Baines is killed by a snake bite on Kananga's island of San Monique. He and Bond shared the same bootmaker.

James Bond

Played by: Roger Moore

Description: With more tounge-in-cheek innuendos and a less gritty portrayal, Live and Let Die introduces Roger Moore as the new James Bond, a role he takes in stride. The movie, as are many of Moore's films, lacks a certain edge that the Connery Bonds had. Still, Moore makes the character his own: a secret agent more likely to crack a one-liner than kill someone in cold blood.

Miss Caruso

Played by: Madeline Smith

Description: A lovely Italian Secret Service agent, Miss Caruso is the buxom brunette hiding in James Bond's closet when M and Moneypenny pay 007 an early morning visit with mission instructions.

M

Played by: Bernard Lee

Description: M pays Bond an early morning visit to 007's flat to give him his instructions. Not aware of modern technology, M is amazed at the elaborate coffee machine and asks Bond, "is that all it does?'

Miss Moneypenny

Played by: Lois Maxwell

Description: Moneypenny follows M to Bond's flat and sees Miss Caruso sneaking out of Bond's bedroom to hide in the closet. She helps Bond hide Caruso when M goes to get his jacket and, before she leaves, Moneypenny jokes to Bond, "Caio bella."

Bond's Driver

Played by: Unknown

Description: This man falls victim to Whisper's white pimpmobile when driving Bond around New York City. He is shot in the neck with a deadly dart and crashes the car he is driving.

Whisper

Played by: Earl Jolly Brown


Whisper with Champagne Bollinger


Description: Whisper is an extremely soft-spoken, portly assassin employed by Kananga. The driver of the white pimpmobile, Whisper is incapacitated but never killed by Bond during the film's climax.

Felix Leiter

Played by: David Hedison

Description: In the first of his two appearances as Felix Leiter, David Hedison helps Bond both in New York City and New Orleans.

Shopkeeper

Played by: Kubi Chaza

Description: This woman is the clerk at the Oh Cult Voodoo Shop who is in cahoots with Kananga. She lets Kananga's henchmen know that Bond is following them to Harlem.

Cab Driver

Played by: Arnold Williams

Description: Bond gets a cab ride from this man both in New York City and in New Orleans. Both times the cabbie is working for Kananga.

Tee Hee

Played by: Julius Harris

Description: Tee Hee is Kananga's chuckling associate and right hand man. After losing his arm to a crocodile named Albert, Tee Hee has a mechanical claw in its place. He eventually loses a fight and his arm to Bond aboard a train at the end of the film.

Kananga's Henchman

Played by: Tommy Lane

Description: Tommy Lane plays a minor henchman who is almost always with Kananga in New York City and New Orleans.

Harold Strutter

Played by: Lon Satton

Description: Strutter is a resourceful CIA operative who follows Bond into Harlem and helps him escape from Kananga's assassins. He later meets the same fate as Hamilton, being killed by the New Orleans Jazz Funeral.

Baron Samedi

Played by: Geoffrey Holder

Description: One of Kananga's giant henchmen, Samedi is six feet, six inches of Voodoo lore. Samedi switches between being a henchman and a performer in San Monique.

Rosie Carver

Played by: Gloria Hendry

Description: An inept CIA liaison, Rosie Carver is Bond's contact in San Monique. In reality, Rosie's CIA cover is a sham; she's really working for Kananga. Rosie is eventually killed when she blunders into one of Kananga's jungle booby traps.

Quarrel Jr

Played by: Roy Stewart

Description: The son of Dr. No's Quarrel, Quarrel Jr. is Bond's boat driver when he is investigating San Monique. Quarrel Jr. later helps Bond plant explosives around the island.

Mrs. Bell

Played by: Ruth Kempf

Description: Mrs. Bell is the woman in Mr. Bleeker's plane when he steals it to escape from Kananga's men in the New Orleans airport.

Mr. Bleeker

Played by: Stephen Hendrickson

Description: Mr. Bleeker is the owner of the plane that Bond destroys while escaping from Kananga's henchmen.

Sherrif JW Pepper

Played by: Clifton James

Description: JW Pepper is a bumbling Louisiana lawman who is a caricature of the tough-talking Southern peace officer. Introduced as an outraged policeman, Pepper can't seem to halt the motorboat chase between Bond and Kananga's henchmen.

Billy Bob

Played by: Unknown

Description: Billy Bob is Sherrif JW Pepper's brother-in-law who owns the fastest boat in the bayou and who works for teh Staet Wildlife Department at Ranger Station.
East 94th Street and 2nd Avenue, Manhattan. Although the sign post clearly shows Lenox Avenue, it is in fact 2nd Avenue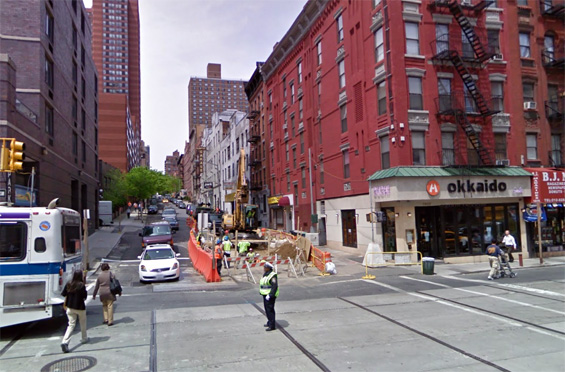 Fillet of Soul' and though the sign post on screen clearly shows Lenox Avenue, it is in fact 2nd Avenue at 94th Street. 117th and 118th Streets were used for the fight scenes which followed and that was the end of the New York scenes. A bit surprising perhaps that no other Bond films have been set in this major world city since.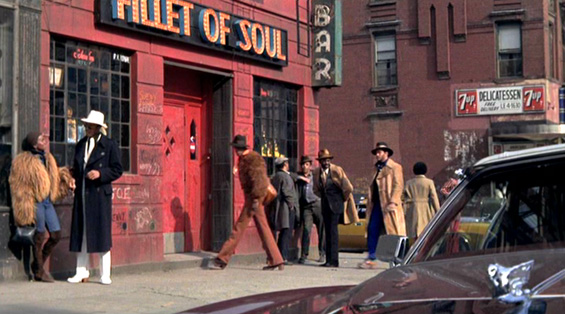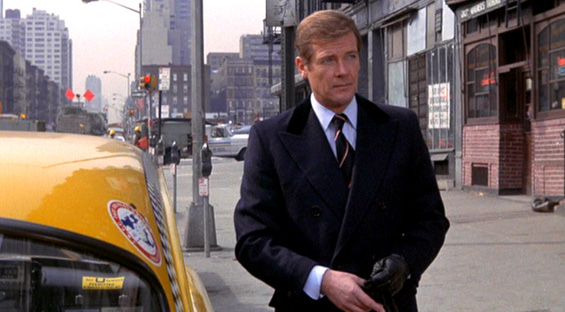 Fillet of Soul, 2nd Avenue and East 94th Street, Manhattan.In the film, the location for the Fillet of Soul is Lenox Avenue and 124th Street in Harlem.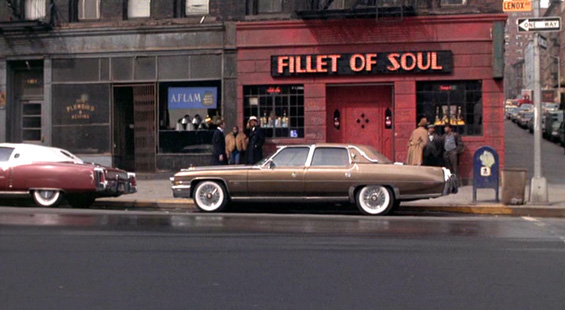 Oh Cult Voodoo Shop, 33 East 65th Street and Madison Avenue, Manhattan.
'Oh Cult Voodoo Shop' on 33 East 65th Street at 5th Avenue which is first seen after 18 minutes. . A couple of minutes later Bond is seen hailing a yellow cab outside the store and tails a lead in typical follow-that-car movie fashion to
Oh Cult Voodoo Shop, 33 East 65th Street and Madison Avenue, Manhattan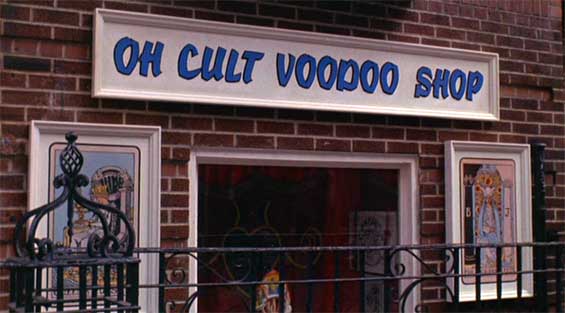 Oh Cult Voodoo Shop, 33 East 65th Street and Madison Avenue, Manhattan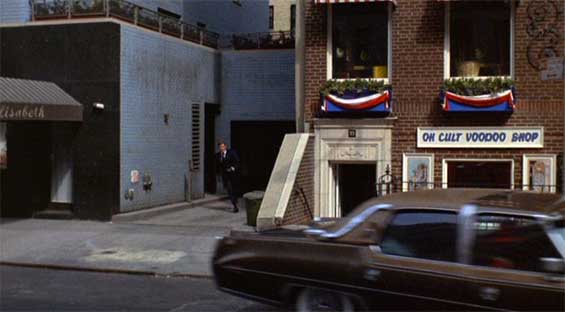 Oh Cult Voodoo Shop, 33 East 65th Street and Madison Avenue, Manhattan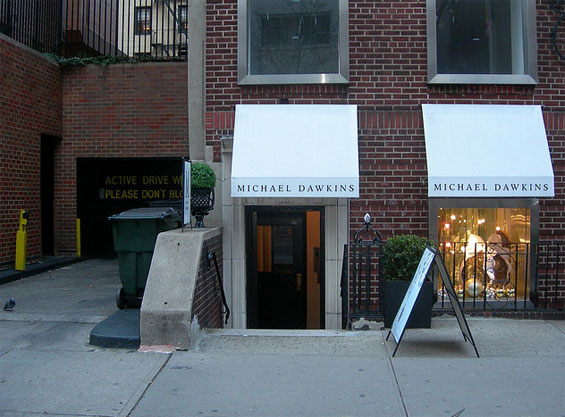 Oh Cult Voodoo Shop, 33 East 65th Street and Madison Avenue, Manhattan
Today Michael Dawkins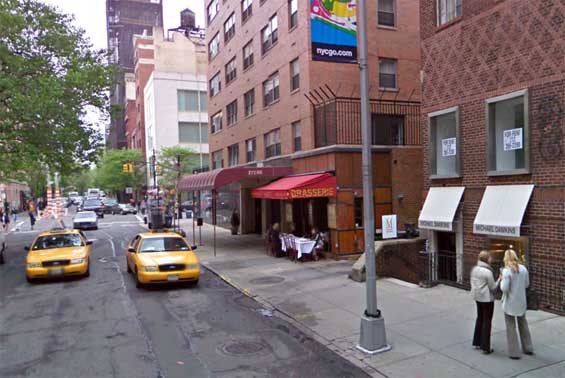 Oh Cult Voodoo Shop, 33 East 65th Street and Madison Avenue, Manhattan
Today Michael Dawkins
http://onthesetofnewyork.com/liveandletdie.html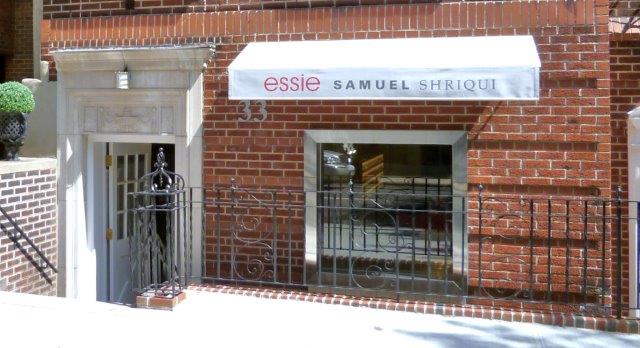 Kananga is also in New York, visiting the United Nations . Just after Bond arrives, his driver is shot dead by a passing motorist, while taking Bond to meet Felix Leiter of the CIA. Bond is nearly killed in the ensuing car crash.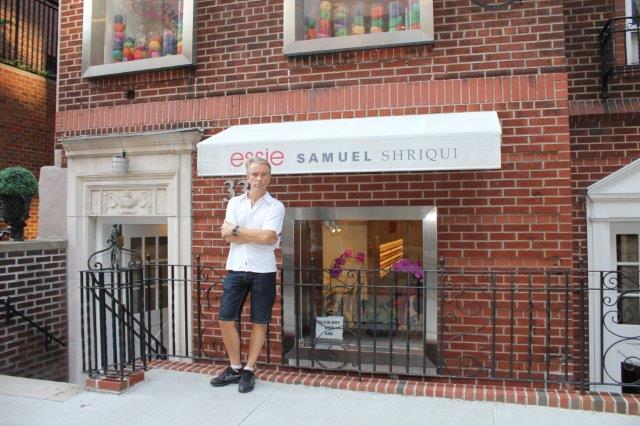 Mr James Bond from Sweden outside, todays oh cult voodoo shop in New York Live And Let Die (1973) Roger Moore James Bond movie 1973,
I filmer och på bio http://visit.un.org/wcm/content/
United Nation New York

FN-byggnaderna kan ses i följande filmer:

- The Pink Panter strikes again
- James Bond, Live and Let Die
(i öppningsscenen)
- The Art of War
- The Interpreter
- The Peacemaker



James Bond in New York visit Oh Cult Voodoo Shop, 33 East 65th Street and Madison Avenue, Manhattan.
From Bondmovie Live And Let Die 1973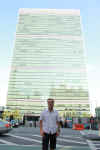 James Bond in New York visit United Nation, 3 United Nations Plaza, New York, NY 10017, USA
From Bondmovie Live And Let Die 1973