Gunnar Schäfer name is James Bond Visitors in James Bond Museum Sweden

.

Since 1959 James Bond 007 Museum Sweden, Nybro.
The 007 museum 1000 sq.m. world`s only James Bond 007 Museum
Emmabodav. 20, 38245 Nybro


Contact: 007museum@telia.com

Phone+4648112960 Open Daily 10-17 Sat 10-14 Media To do and see Buy/Köp info Links
James Bond Theme Party PPKGuns Omega Bmw Bollinger Corgi, Cd, Swatch Posters, Specials James Bond store
Welcome to The James Bond 007 Museum Sweden Nybro Booking open mon-fri 10-17, sat 10-14
Champagne Bollinger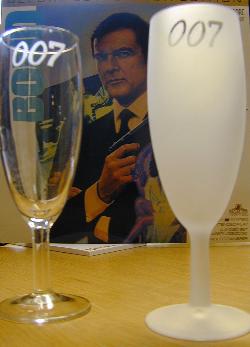 BOLLINGER VIEILLES VIGNES FRANCAISES 1996
Ø
Characteristics of the 1996 harvest
A cold and dry winter with scarce frosts was followed in mid-April by budding in hot weather. The lack of rain coupled with high spring temperatures recalled the vintage of 1976. The flowering of the Chardonnay was a little difficult and this variety suffered from millerandage (partial crop failure and mixed berry size). The summer was hot until mid-August, then rain followed. September was also capricious, with very cold night temperatures.
The harvest started under very good conditions, from September 16th. The average yield was 10,300 kg per hectare. The composition of the musts was absolutely exceptional, as it is rare to obtain both sugar richness (more than 10% potential alcohol) and such high total acidity (10g/l). The Champenois look at the wines of 1996 as Champagnes of long ageing capacity.
Ø
Origin of the grapes
Vieilles Vignes Françaises is produced from grapes from three parcels of grand cru vineyards in Ay and Bouzy that, among them, total under one-and-a-half acres. These were unaffected by phylloxera and continue to be planted en foule, in the historic, layered, self-propagating method:
Chaudes Terres, in Aÿ, 24 ares

Clos St Jacques, in Aÿ, 21 ares

Croix Rouge in Bouzy, 13 ares

Vieilles Vignes Françaises is 100% Pinot Noir
Ø Vinification of Vieilles Vignes Françaises 1996
Vieilles Vignes Françaises was produced exclusively from the cuvée (first grape pressing).
The grape juice underwent first fermentation in oak barrels of 205 liters so that each lot could be individually monitored. Only old barrels were used, to ensure that neither tannin nor oak flavors are imparted to the wine. This technique increases both aromatic complexity and the ageing capacity of great wines.
Ø Vieilles Vignes Françaises was aged a minimum of five years, under natural cork
The wine was bottled for second fermentation and ageing using real cork stoppers, which ensure a better barrier against oxidation than crown caps for wines aged over four years. Using cork stoppers, quite rare today in Champagne, increases both the aromatic complexity and the ageing capacity of great wines.
Ø Dosage
The dosage is light in order to maintain the aromatic balance (7-9 grams of sugar per liter).
Ø Rest after disgorging
After disgorgement by hand and its dosage, Vieilles Vignes Françaises rested at least three months in the cellars prior to shipment. This is the necessary time for the wine to assimilate the liqueur d'expédition (dosage) and recover from the shock of disgorgement.
The total production of the 1996 vintage was 2,600 bottles, each numbered.
Wines produced
Special Cuvée NV R.D. 1990 Grande Année 1995
Bollinger Rosé 1996 Côtes aux Enfants 1997 Vieilles Vignes Francaises 1996
Visit www.champagne-bollinger.fr for the complete history of Bollinger
Copyright © 1959-2017 www.007Museum.com All Rights Reserved






James Bond 007 Museum Nybro, Sweden . www.007museum.com
Contact: 007museum@telia.com tel. +46-481-12960 .Open Daily 10.00 - 17.00 (lunch 13-14) Sat 10.00-14.00
Adress: James Bond 007 Museum, Emmabodav.20, 382 45 Nybro, Sweden 0481-12960
James Bond Materials© 1962 - 2017 United Artists Corporation and Danjaq, LLC. 007 Gun Logo© 1962 United Artists Corporation and Danjaq, LLC. 007 Gun Logo, Iris Logo,
JAMES BOND and all other James Bond related trademarks - Danjaq, LLC. All Rights Reserved. Copyright