Gunnar Schäfer name is James Bond Visitors in James Bond Museum Sweden

.

Since 1959 James Bond 007 Museum Sweden, Nybro.
The 007 museum 1000 sq.m. world`s only James Bond 007 Museum
Emmabodav. 20, 38245 Nybro


Contact: 007museum@telia.com

Phone+4648112960 Open Daily 10-17 Sat 10-14 Media To do and see Buy/Köp info Links
James Bond Theme Party PPKGuns Omega Bmw Bollinger Corgi, Cd, Swatch Posters, Specials James Bond store
Welcome to The James Bond 007 Museum Sweden Nybro Booking open mon-fri 10-17, sat 10-14
Champagne Bollinger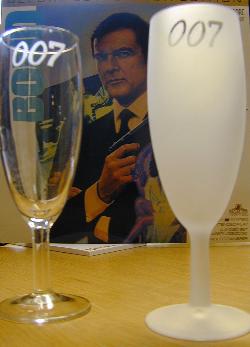 BOLLINGER RD 1990

Ø Characteristics of the year 1990

There was no winter frost in 1990, but after an early spring Champagne suffered from severe late frosts. Flowering started very early, at the end of May. Due to the cold weather it lasted until the end of June, which caused coulure (flower shatter) and millerandage (partial crop failure and mixed berry size), particularly in Pinot Noir. Then the climate was quite dry until the harvest.
The harvest started mid-September. Grapes were healthy and of nice quality, with yields variable from one cru to another (from 6,000 to 12,600 kg/ha), with an average over 11,500 kg/ha.
Bollinger R.D. 1990
69% Pinot Noir 31% Chardonnay

Doft:
Dov skogdoft med klara toner av fuktiga champinjoner, inslag av torv
och bröd ger en mogen doft med attityd.
Smak:
Matig, fyllig, Angenäm och klassisk R.D. karaktär, naturligtvis
fyllig och aptitretande med en kraftig och oändlig eftersmak. En
dröm.

Ø RD 1990
Grape were harvested exclusively from Champagne's grands and premiers cru vineyards. 16 crus were used in the assemblage (blend) of RD 1990, 67% from grands crus and 33% from premiers crus. These were mainly from the villages of Aÿ, Bouzy, Louvois, Verzenay, Mesnil s/Oger, Oger and Cuis.
The blend of R.D. 1990 is composed of:
69% Pinot Noir

31% Chardonnay
Ø Vinification of R.D. 1990
R.D. 1990 was produced exclusively from the cuvée (first grape pressing).
The first fermentation took place in small oak casks (205, 225 and 410 litres), lot by lot, cru by cru, and grape variety by grape variety. This allows Bollinger to use a very strict selection process. Bollinger only uses old casks (5 years old or older) to ensure that neither tannin nor oak flavors are imparted to the wines. This method increases both the aromatic complexity and the ageing capacity of great wines.
Ø R.D. 1990 ages in the cellars under natural cork
The wines were bottled for second fermentation and ageing using real cork stoppers, which ensure a better barrier against oxidation than crown caps, and then aged in Bollinger's cellars. Using cork stoppers, quite rare today in Champagne, guarantees freshness and allows aromas to fully develop their bouquet.
After extra-long aging and disgorgement by hand, R.D. 1990 rested for a minimum of three months prior to shipment. This is the necessary amount of time for the wine to assimilate the liqueur d'expédition (dosage) and recover from the shock of disgorgement.
The complete list of RD vintages produced by Champagne Bollinger:

1952
1966
1979
1990
1953
1969
1980
1955
1970
1981
1959
1973
1982
1961
1975
1985
1964
1976
1988
Wines produced
Special Cuvée NV R.D. 1990 Grande Année 1995
Bollinger Rosé 1996 Côtes aux Enfants 1997 Vieilles Vignes Francaises 1996
Visit www.champagne-bollinger.fr for the complete history of Bollinger

Copyright © 1959-2017 www.007Museum.com All Rights Reserved






James Bond 007 Museum Nybro, Sweden . www.007museum.com
Contact: 007museum@telia.com tel. +46-481-12960 .Open Daily 10.00 - 17.00 (lunch 13-14) Sat 10.00-14.00
Adress: James Bond 007 Museum, Emmabodav.20, 382 45 Nybro, Sweden 0481-12960
James Bond Materials© 1962 - 2017 United Artists Corporation and Danjaq, LLC. 007 Gun Logo© 1962 United Artists Corporation and Danjaq, LLC. 007 Gun Logo, Iris Logo,
JAMES BOND and all other James Bond related trademarks - Danjaq, LLC. All Rights Reserved. Copyright