Gunnar Schäfer name is James Bond Visitors in James Bond Museum Sweden

.

Since 1959 James Bond 007 Museum Sweden, Nybro.
The 007 museum 1000 sq.m. world`s only James Bond 007 Museum
Emmabodav. 20, 38245 Nybro


Contact: 007museum@telia.com

Phone+4648112960 Open Daily 10-17 Sat 10-14 Media To do and see Buy/Köp info Links
James Bond Theme Party PPKGuns Omega Bmw Bollinger Corgi, Cd, Swatch Posters, Specials James Bond store
Welcome to The James Bond 007 Museum Sweden Nybro Booking open mon-fri 10-17, sat 10-14
BOLLINGER SPECIAL CUVÉE

Ø The grapes are primarily from Champagne's grands and premiers crus

Two-third of the grapes come from Bollinger's own vineyards, which guarantees the quality and consistency of the wines.
30 crus from the noble vineyards of the Department of the Marne are used in Special Cuvée's blend, 83% of the grapes from grands and premiers crus of the Montagne de Reims and of the Côte des Blancs. These are mainly from Aÿ, Verzenay, Louvois, Mesnil s/Oger, Oger and Cuis.
Ø The assemblage (blend) is primarily from Pinot Noir from grands and premiers crus
The blend for Special Cuvée is, on average, composed of:
60% Pinot Noir

25% Chardonnay

15% Pinot Meunier
Ø Special Cuvée is only produced from the cuvée(first grape pressing).
Only when the harvest is superb does Bollinger also use the taille (second pressing) of chardonnay.
Ø First fermentation is done cru by cru and grape variety by grape variety
The first fermentation takes place in small stainless steel tanks and oak barrels, with each cru and grape variety fermented, using traditional yeasts, separately. This improves control of the fermentation process, and thus enhances the quality of wines used for blending Special Cuvée.
5 to 10% reserve wines are incorporated in the blend. These reserve wines are kept by cru, by grape variety, and by vintage, in magnums corked with real cork. This method, quite rare in Champagne today, enables Bollinger to keep its reserve wines for long periods of time without losing either freshness or character. This veritable archive of wines gives Bollinger a vast and extremely precise palette to use for blending: the cru, grape variety, or year required can be selected to add the necessary touch to Special Cuvée's blend.
Ø Special Cuvée is matured in Bollinger's cellars for a minimum of three years
The ageing process at Bollinger is longer than the minimum required by the Champagne Appellation, never less than two years, which gives the wine the necessary time to achieve balance and liberate a full range of aromas.
Ø Dosage
To preserve the aromatic balance, the dosage of Special Cuvée is light (7 to 9 grams of sugar per litre).
Ø Rest after disgorging
Special Cuvée rests for at least three months in the cellars prior to shipment. This is the necessary time for the wine to assimilate the liqueur d'expédition (dosage) and to fully recover from the shock of disgorgement.
The Wine Spectator "91"
Consistently one of the best non-vintage cuvées in the powerful Bollinger style. A combination of freshness and maturity highlight this medium-bodied bubbly. The flavors evoke toast, nuts and citrus, while the vivid acidity keeps it all focused. Drink now through 2004.—B.S.
Wines produced
Special Cuvée NV R.D. 1990 Grande Année 1995
Bollinger Rosé 1996 Côtes aux Enfants 1997 Vieilles Vignes Francaises 1996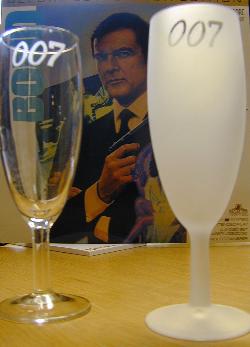 Visit www.champagne-bollinger.fr for the complete history of Bollinger
Copyright © 1959-2017 www.007Museum.com All Rights Reserved






James Bond 007 Museum Nybro, Sweden . www.007museum.com
Contact: 007museum@telia.com tel. +46-481-12960 .Open Daily 10.00 - 17.00 (lunch 13-14) Sat 10.00-14.00
Adress: James Bond 007 Museum, Emmabodav.20, 382 45 Nybro, Sweden 0481-12960
James Bond Materials© 1962 - 2017 United Artists Corporation and Danjaq, LLC. 007 Gun Logo© 1962 United Artists Corporation and Danjaq, LLC. 007 Gun Logo, Iris Logo,
JAMES BOND and all other James Bond related trademarks - Danjaq, LLC. All Rights Reserved. Copyright