Bollinger and Bond is one of the most enduring marketing partnerships in motion picture history.
Champagne Bollinger is featured in almost every Bond movie since Live And Let Die.
The literary James Bond first encounters Bollinger in the book Diamonds Are Forever, when Tiffany Case sends a quarter-bottle to his cabin on the Queen Elizabeth.
List of Bollinger champagnes used in the James Bond movies:
Live and Let Die (1973)
James Bond (Roger Moore) orders Bollinger Champagne, slightly chilled, in his San Moniquan Hotel room. The next day, Bond and Rosie Carver share a bottle of Dom Pérignon during their picnic, just before she gets killed.
Moonraker (1979)
A bottle of champagne can be seen in a cooler with Bollinger written on it, in the Apollo Airways airplane that crashes in the pre-title sequence. In Holly Goodhead's room in Hotel Danieli in Venice, another bottle of champagne in a Bollinger cooler can be seen. Bond says "Bollinger! If it's '69 you were expecting me!". In the last sequence of the film, Jaws and his girlfriend Dolly drink Bollinger Tradition R.D. (possibly a 1973 vintage) in the exploding space station.
Octopussy (1983)
Octopussy pours herself a glass of Bollinger Tradition R.D. (vintage 1973 unknown) when she meets Bond in her room (Bond has a vodka made from Martini vermouth and Smirnoff vodka, shaken). Bond later fills up her glass once more from the same bottle. Even later, Octopussy smashes a (the same?) bottle on an intruder. Two more Bollinger bottles and some full decanters can be seen in her room on a small table. In the train in Germany, Octopussy, General Orlov and Kamal Khan drink champagne from a bottle that looks like the same Bollinger Tradition R.D..
A View to a Kill (1985)
Bollinger 1975. Plenty of Bollinger Champagne flows at the party at Zorin's horse castle, Château de Chantilly. Bond brings a bottle and two glasses to Stacey Sutton (Tanya Roberts).
The Living Daylights (1987)
Bollinger R.D. 1975. Bond (Timothy Dalton) gets a bottle of Bollinger at Harrods (see the full Harrods food hamper that comes with it) for General Koskov (Jeroen Krabbé) who exclaims delightedly: "Champagne Bollinger R.D.. The best!".
Licence to Kill (1989)
Bollinger R.D. 1979. Bond orders Bollinger RD when he arrives with Pam Bouvier (Carey Lowell) in his suite in the Hotel El Presidente in Isthmus City. Three Bollinger bottles can be seen during the wedding of Felix Leiter, and a bottle of Bollinger in a cooler can be seen when Pam Bouvier drinks Bond's martini at the casino.
Goldeneye (1995)
Bollinger La Grande Année 1988 - the bottle can be seen in the built-in cooler in Bond's Aston Martin DB5.
Tomorrow Never Dies (1997)
Bollinger La Grande Année 1989
The World Is Not Enough (1999)
Bollinger La Grande Année 1990. Bond and Elektra share a bottle of Bollinger in Elektra's palace room.
Die Another Day (2002)
La Grande Année 1995 and Bond asks Mr Chang in The Rubyeon Royale Hotel for Bollinger '61.
Casino Royale (2006)
Bollinger La Grande Année 1990
Quantum of Solace (2008)
Bollinger La Grande Année 1999 - Bond and Agent Fields drink Bollinger in their room at the Andean Grand Hotel (we only see the cork of a Bollinger bottle next to the Eco Park Charity Fundraiser invitation). At the Fundraiser several Bollinger bottles can be spotted as well. Bond and Fields drink from glasses that have a Bollinger logo.
SkyFall (2012)
Bollinger R.D. 1997
SPECTRE (2015)
Bollinger R.D. 2002
No Time To Die (2020)
As confirmed by Bollinger the brand will celebrate 40 years of partnership between James Bond and Bollinger in 2019, and the brand will most likely be seen once again in the 25th Bond film as well. In the trailer for the film, we can see that James Bond has a couple of Bollinger boxes in the garage where he stored is Aston Martin V8 Vantage.
The relationship between the cinematic Bond and Bollinger began when the Broccoli-Wilson family, producers of the Bond films, sought a wine to match Bond's impeccable taste and refined personality. Not surprisingly, they chose Champagne Bollinger, long acknowledged as one of the world's finest Champagnes. A mutual friendship developed between the Broccoli-Wilson family and the Bollinger family, and Champagne Bollinger has remained a Bond favorite even as the torch has been passed from Roger Moore to Timothy Dalton, Pierce Brosnan and now Daniel Craig.
SPECIAL EDITIONS

Bollinger 002 for 007
In 2012, the year that celebrates the 50th anniversary of Bond in films, Bollinger released the special Bollinger 002 for 007 gift set: a Bond inspired and branded box which contains a bottle of Champagne Bollinger 2002.
Bollinger 007 Bullet Champagne cooler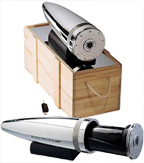 During the release of Quantum of Solace in 2008, Bollinger released a very limited series of a magnificent champagne cooler in the shape of a bullet. The cooler holds a bottle of Bollinger 1999.

Bollinger SPECTRE ediiton
In October 2015, Bollinger launched a 2009 James Bond vintage with special case to celebrate the partnership with Bond, and a limited edition SPECTRE crystal cooler.

Bollinger Tribute to Moonraker Luxury Limited Edition
In November 2019, celebrating 40 years of the Bollinger 007 partnership since Moonraker, Bollinger revealed a stunning case inspired by the Moonraker and Ken Adam sets, containing a 2007 Magnum bottle. This Bollinger Tribute to Moonraker Luxury Limited is limited to 407 pieces,

Bollinger 007 Limited Edition Millésimé 2011
In November 2019, celebrating the upcoming 25 Bond film, a special case was released, containing 2011 Millésimé, and the names of all previous Bond films etched on the case and bottle, forming the number 25.

Bollinger Special Cuvée 007 Edition
In October 2020, Bollinger announced the Bollinger Special Cuvée 007 James Bond Edition The champagne comes in limited edition gift box that brings together three icons: Bollinger's signature Special Cuvée, the Aston Martin DB5 and the legendary British secret agent, James Bond.

Bollinger 002 till 007 – särskild specialutgåva till agenten

Specialutgåva James Bond Bollinger "002 for 007" etikett utan pistol. Bollinger no gun Specialutgåva James Bond Bollinger "002 for 007" etikett med pistol. Bollinger with Bond logon gun
Celebrating the 50th anniversary of James Bond's screen debut in style
The long-awaited Skyfall, James Bond's 23rd on-screen adventure, is soon to be released – exactly 50 years after Her Majesty's most stylish secret servant made his 1962 film debut in Dr. No. To celebrate the milestone, James Bond's favourite champagne House has launched Bollinger 002 for 007: a limited edition of a very special bottle of Bollinger, enhanced by a refined presentation box in the shape of a Walther PPK silencer.
To open the box, James Bond lovers will have to crack the code: the three figures 007 must be aligned, and the gun logo button pushed, to reveal a bottle of La Grande Année 2002. Why 2002? Because only 'the most exceptional vintage of the last decade' – in the words of Cellar Master Mathieu Kauffmann – could meet James Bond's legendary high standards...
Throughout his screen career, the British secret agent has become a genuine modern myth, renowned for his faultless elegance, passion for excellence and impeccable taste, and this sophistication is reflected in the collector bottle designed by Sparkle Design Agency. Adorned in shiny black and hot stamped silver, it features a subtle guilloche pattern on the label and cap, which is repeated on the silencer box. A veiled reference to the pistol grip, and a tribute to 007's eye for detail..
År Film Champagne James Bond Bollinger

1973 Live and Let Die
Bollinger.
Champagne: Bollinger
Scen: Bond (Roger Moore) beställer en flaska Bollinger i väntan på besök.

1979 Moonraker
Bollinger R.D. 1969.


Champagne

: Bollinger R.D. 1969

Astrofysikern Holly Goodhead har denna champagnen på hotellrummet sitt i Venezia i filmen

Moonraker

. Bond får senere veta at hon är en CIA-agent.




Scen: Bond (Roger Moore) lägger märke till en flaska Bollinger i Holly Goodheads sovrum och säger "Bollinger? If it is a ´69, you were expecting me". Under slutscenen öppnar Jaws en flaska Bollinger R.D. med tänderna.

1983 Octopussy
Bollinger R.D. (1973)


Champagne

:

Bollinger R.D.


Scen:

Bond (Roger Moore) dricker Bollinger R.D. på en restaurang vid en pool. Kort därefter också i ett hus.

1985 A View to a Kill
Bollinger R.D. 1975.


Champagne

:

Bollinger R.D. 1975


Scen:

Bond (Roger Moore) smakar och känner igen en Bollinger 1975 i Jules Vernes restaurang i Eiffeltornet.

1987 The Living Daylights
Bollinger R.D. 1975.


Champagne

:

Bollinger R.D. 1975


Scen:

I filmens början serveras Bond (Timothy Dalton) Bollinger R.D. 1975 av en snygg kvinna på en båt.

1989 Licence to Kill
Bollinger R.D. 1979.


Champagne

:

Bollinger R.D. 1979


Scen:

Bond (Timothy Dalton) säger till servitören på ett kasino "Bollinger R.D. I presume" när han blir serverad Bollinger R.D. 1979.

1995 Goldeneye
Bollinger La Grande Année 1988.


Champagne

:

Bollinger La Grande Année 1988


Scen:

I en lång biljakt i början av filmen, blir Bond (Pierce Brosnan) tillfrågad av sitt kvinnliga sällskap (som hans chef M skickat för att bedöma Bond) vad han gör för att koppla av. Bond svarar genom att trycka på en knapp på sin Aston Martins instrumentbräda, fram kommer en välkyld flaska Bollinger La Grande Année 1988 och två glas.

1997 Tomorrow Never Dies
Bollinger La Grande Année 1989.


Champagne

:

Bollinger La Grande Année 1989


Scen:

Bond (Pierce Brosnan) träffar på en före detta flickvän (Terry Hatcher) vid en lansering av en ny satellit. "What are you drinking" undrar Bond och får svaret "I'm drinking my husband's champagne".

1999 The World is not Enough
Bollinger La Grande Année 1990.


Champagne

:

Bollinger La Grande Année 1990


Scen:

Bond (Pierce Brosnan) dricker Bollinger i sängen med en kvinna (Sophie Marceau).

2002 Die Another Day
La Grande Année 1995. Bollinger 1961


Champagne

:

Bollinger 1961 & Bollinger La Grande Année 1995


Scen:

Bond (Pierce Brosnan) beställer in en flaska Bollinger 1961 på The Peninsula Hotel i Hong Kong. Senare i filmen serveras La Grande Année 1995 på Island under ett stort party på The Ice Palace

2006 Casino Royale
Bollinger La Grande Année 1990.

Champagne

:

Bollinger La Grande Année 1990


Scen:

Bond (Daniel Craig) dricker Bollinger tillsammans med en kvinna (Katherina Murino) på Bahamas enda klubb. Efter sin kasinovinst på Casino Royal firar han med Bollinger tillsammans med en annan kvinna (Eva Green).

2008 Quantum of Solace
Bollinger La Grande Année 1999.


Champagne

:

Bollinger La Grande Année 1999


Scen:

Bollinger förekommer vid tre tillfällen i filmen; första två gångerna serveras Bollinger på mottagningar i Schweiz och i Panama, sista tillfället i en svit i ett palats.

2012 Skyfall
Bollinger R.D. 1997. Champagne

:

Bollinger R.D.1997


Scen:

Bond (Daniel Craig) blir serverad Bollinger på ett kasino på Kinesiska sjön när han möter Séverine (Bérénice Marlohe).
Bondfilm 50 years.

Bollinger La Grande Année 2002,

2015 Spectre Bollinger R.D. 1988. Limited Edition Bollinger Cuvée from the 2009 vintage. Bollinger R.D. 2002

1952-2002 50th years anniversary

In Spectre Bollinger, the Champagne Drinks 3 different, That James Bond RD 2002, RD 1988, Cuvée from the 2009 vintage

2021 No Time To Die Bollinger Speciell Cuvée 007 Edition Bollinger 007 lanserar exklusiv Limited Edition Millésimé 2011. Bollinger 007 Limited Edition Millésimé 2011
För att uppmärksamma den 25:e filmen i James Bond-serien, No Time To Die, har huset skapat en begränsad utgåva tillägnad 007. Den svarta flaskan pryder siffran "25" bildad av titlarna på de tidigare Bond-filmerna, som på samma sätt är etsade på trälådans glas.

Årgång 2011, ett atypiskt år, inspirerade källarmästaren till att producera en unik champagne skapad helt av Pinot Noir från Grand Cru-byn Aÿ, där huset grundades 1829. Detta är första gången som både årgång och by uteslutande har använts av Bollinger för att tillverka ett vin. Den utmärkta skörden 2011 i Aÿ producerade komplexa, kraftfulla och harmoniska pinot noirs, fullt uttalade i detta karakteristiska vin.

Champagne Bollinger La Grande Année 2007

70% Pinot Noir och 30% Chardonnay.
0,6 g/ 100 mL (Brut).
Komplex, lätt utvecklad doft med inslag av rostat bröd, gula äpplen, ananas, nougat, brynt smör, mineral och apelsin.
Torr, frisk, fruktig och komplext utvecklad smak med inslag av gula äpplen, honung, mineral, apelsin, aprikos, ananas, nötter, nougat och rostat bröd. Eftersmaken är lång och mycket trivsam.

Bollinger La Grande Année 2007 är ett vin som mår bra av att njutas över lång tid så att man hinner uppleva alla lager av aromer som kommer rullandes likt vågor på ett hav. Det som börjar med en lätt smörigt nötig ton avslutas, likt ett fyrverkeri-cressendo, med en pampig kompott av både tropiska frukter, rostat bröd och gula äpplen. Betyget blir 9,5 och jag ser en potential för vidare utveckling under 10-15 år.
9,5 (exceptionell Champagne)!

James Bond has a taste for the finer things in life, and when it comes to Champagne, he insists on his favourite: Bollinger. The iconic Champagne house made its first appearance in 1973's Live And Let Die and has featured in every Bond film for the past 40 years. Bond and Bollinger are iconic names that share a sense of style and elegance

Bollinger R.D. 1997 for Bond 23 SKYFALL

Bollinger Spectre Crystal Set 007, from James Bond 007 Museum Nybro Sweden nr 4 and nr 8.

Bollinger James Bond SPECTRE Crystal Set Bollinger R.D. 1988 Magnum encased in Saint Louis Crystal Ice Bowl.

För att hylla den senaste James Bond-filmen lanserar Bollinger en unik specialutgåva. Champagnen har varit Bonds första val sedan 1979 och nu har ett unikt exemplar skapats för att ge uttryck för den elegans som är älskad av agent 007. Totalt produceras 307 st (+10 st tillverkade av Eric Berthes själv1-10) exemplar och endast ett av dessa kommer till den svenska marknaden

Bollinger Spectre Crystal Set 007 består av en Bollinger R.D. 1988 magnum tillsammans med en handblåst kristallkylare som är skapad av Eric Berthès på Saint-Louis Crystalworks. Gemensamt för Bollinger och Saint-Luis är vikten av ett traditionellt hantverk. Saint-Louis grundades redan 1586 och har varit ledande inom arbete med kristall sedan 1781. Idag är de en del av Hermès-gruppen.

År Film Champagne James Bond Bollinger

Champagne Bollinger R.D. 1973 75 cl 2 st
Licence to Kill Bollinger R.D. 1979 150 cl 1 st
Champagne Bollinger La Grande Année 1988.
Champagne Bollinger La Grande Année 1990 6 st
Champagne Bollinger R.D 1990 75 cl 8 st
Champagne Bollinger R.D. 1995 75 cl 1 st
Champagne Bollinger La Grande Année 1997 75 cl 4 st
Quantum Bollinger La Grande Année 1999 75 cl 5 st
Quantum Bollinger La Grande Année 1999 150 cl 1 st
Champagne Bollinger La Grande Année 2000 75 cl 4 st
Skyfall Bollinger La Grande Année 2002 75 cl 4 st
Champagne Bollinger La Grande Année 2007 75 cl 10 st
Champagne Bollinger La Grande Année 2008 75 cl 5 st

Spectre Champagne Bollinger R.D. 2002 75 cl 5 st
Limited Edition Bollinger Cuvée 2009 vintage. 75 cl 9 st

No Time To Die Bollinger Millésimé 2011 75 cl 30 st
Bollinger Speciell Cuvée 007 Edition Bollinger 007 75 cl 6 st

Champagne Bollinger La Grande Année 2007 Rosè 75 cl 2 st
Champagne Bollinger La Grande Année Plåt Rosè 75 cl 2 st
Champagne Bollinger Rosè 75 cl 5 st
Champagne Bollinger Speciell Cuvèe Magnum 150 cl 1 st
Champagne Bollinger Speciell Cuvèe Dubbel Magnum 300 cl 1 st

1952-2002 50th years anniversary

Champagne Bollinger Rosè

62% PN, 14% PM & 24% C.
0,6 g/ 100 ml (Brut).
Intensivt fruktig, röda äpplen, smultron, jordgubbar, rostade toner, nougat, kavring, svagt nötig och med stor komplexitet.
Röda äpplen, ekfat, viss brödighet, grapefrukt, jordgubbar, smultron och ljust bröd.

I Bollinger Brut Rosé använder man 6% rött vin för att få färgen samt den tillåts vila minst tre år på jästfällningen. Den är mörkt orangerosa med fina och pigga bubblor. Aromen i både smak och doft är komplexa och balanseras fint av en bra syra. Primärt återfinns fruktiga toner med en bas i röda bär där främst jordgubbe och blodgrape lyser igenom. Jag gillar verkligen denna roséchampagnen och njuter den gärna vid 12-14 grader.
8,5 (mycket bra Champagne).

År Film Champagne James Bond Bollinger
Lager i James Bond museum.

Bollinger R.D. 1973 75 cl 2 st
Bollinger R.D. 1979 150 cl 1 st
Bollinger La Grande Année 1990 75 cl 6 st
Bollinger La Grande Année 1999 75 cl 5 st
Bollinger La Grande Année 1999 150 cl 1 st
Bollinger La Grande Année 2000 75 cl 4 st
Bollinger La Grande Année 2002 75 cl 4 st
Bollinger La Grande Année 2007 75 cl 10 st
Bollinger La Grande Année 2008 75 cl 5 st
Bollinger R.D. 2007 75 cl 1 st
Champagne Bollinger R.D. 2002 75 cl 5 st
Limited Edition Bollinger Cuvée 2009 vintage. 75 cl 9 st
Bollinger Millésimé 2011 75 cl 30 st
Bollinger Speciell Cuvée 007 Edition Bollinger 007 75 cl 12 st

Champagne Bollinger La Grande Année 2007 Rosè 75 cl 2 st
Champagne Bollinger La Grande Année Plåt Rosè 75 cl 2 st
Champagne Bollinger Rosè 75 cl 5 st
Bollinger Speciell Cuvèe 75 cl 12 st
Champagne Bollinger Speciell Cuvèe Magnum 150 cl 1 st
Champagne Bollinger Speciell Cuvèe Dubbel Magnum 300 cl 1 st

Champagne Bollinger La Grande Année 1988.
Champagne Bollinger R.D 1990 75 cl 8 st
Champagne Bollinger R.D. 1995 75 cl 1 st
Champagne Bollinger La Grande Année 1997 75 cl 4 st

141 st Bollinger bottle