Gunnar Schäfer name is James Bond Visitors in James Bond Museum Sweden

.

Since 1959 James Bond 007 Museum Sweden, Nybro.
The 007 museum 1000 sq.m. world`s only James Bond 007 Museum
Emmabodav. 20, 38245 Nybro


Contact: 007museum@telia.com

Phone+4648112960 Open Daily 10-17 Sat 10-14 Media To do and see Buy/Köp info Links
James Bond Theme Party PPKGuns Omega Bmw Bollinger Corgi, Cd, Swatch Posters, Specials James Bond store
Editors from media outlets around the world flew in to Monaco yesterday for the launch of the new 007 fragrance, Ocean Royale. The event, held at the exclusive Chateau Eza high in the hills above the principality was hosted by Caterina Murino who played Solange in CASINO ROYALE and fragrance expert Will Andrews. Ocean Royale "has an invigorating freshness with an underpinning of masculine woods," said Andrews. "It is the essence of Bond's masculine side". Caterina Murino talked of her time as a Bond actress and the effect it had on her life: "It gave me the opportunity to discover the world," she said. "I was in Bond for two minutes and it completely changed my life."Ocean Royale is currently available exclusively at Harrods.
Besides 'license to kill' James Bond has his disarming fragrance starting from 2012.
Eon Productions, in charge of all James Bond movies and Procter & Gamble Co. are launching a new, aromatic-fougere fragrance that brings us back to the 60es. The new fragrance James Bond 007 also celebrates 50 years of James Bond film franchise and announces 23rd Bond movie "Skyfall" expected in cinemas in November 2012!

James Bond 007, masculine fragrance of the famous hero will be in sale next month, exclusively at Harrods. Its retro, aromatic-fougere composition is created of notes of fresh apples, cardamom, sandalwood, vetiver, lavender, coumarin and moss. This accentuated combination of aroma of ferns and moss gives a unique seal to the new men's edition. James Bond 007 was created in cooperation of Eon Productions and perfumers of the house of Givaudan!

The bottle is dark green and robust, created of glass, has coarse mesh structure that resembles on car series James Bond. Silver ring-shaped stopper was inspired by a number of British spy gadgets and the engraved logo 007 is emphasized with a smooth satin ribbon that decorates the center of the bottle. The fragrance is available as 30, 50, 75 and 125ml EDT.

The fragrance does not represent any of the actors chosen for the role of the popular agent, but is constructed more like a conceptual presentation of Bond's world. Advertising campaign was designed by Greg Williams who created the campaigns for the five previous Bond films. The campaign will announce the new movie Skyfall to all media starting this autumn.
Eon Productions perfumes and colognes

Eon Productions is a new fragrance brand. Designer Eon Productions has only one perfume in our fragrance encyclopedia from year 2012. The nose who worked on Eon Productions fragrance is Givaudan.

Filmbolaget EON firar 50 års-jubiléet med ny parfym

James Bond-fans har ett stort år att se fram emot.

I oktober har "Skyfall" premiär men i september kan de inbitna fansen smygstarta hysterin – med en egen agent 007-parfym.

I år är det 50 år sedan den första filmen om agent 007 såg världens ljus och det firas stort med nya "Skyfall˝ och med en specialtillverkad James Bond-parfym.

Det är produktionsbolaget Eon Productions som har gått ihop med Procter & Gamble Co. för att ta fram parfymen som ska få män att dofta som den världsberömda agenten.

– Vi hoppas kunna fortsätta att utveckla parfymserien, säger Eons Keith Snelgrove till Wwd, rapporterar Contactmusic.

I augusti släpps parfymen, som enligt uppgifter kommer att få namnet "James Bond 007", exklusivt på varuhuset Harrods i London för att sedan säljas världen över från och med september.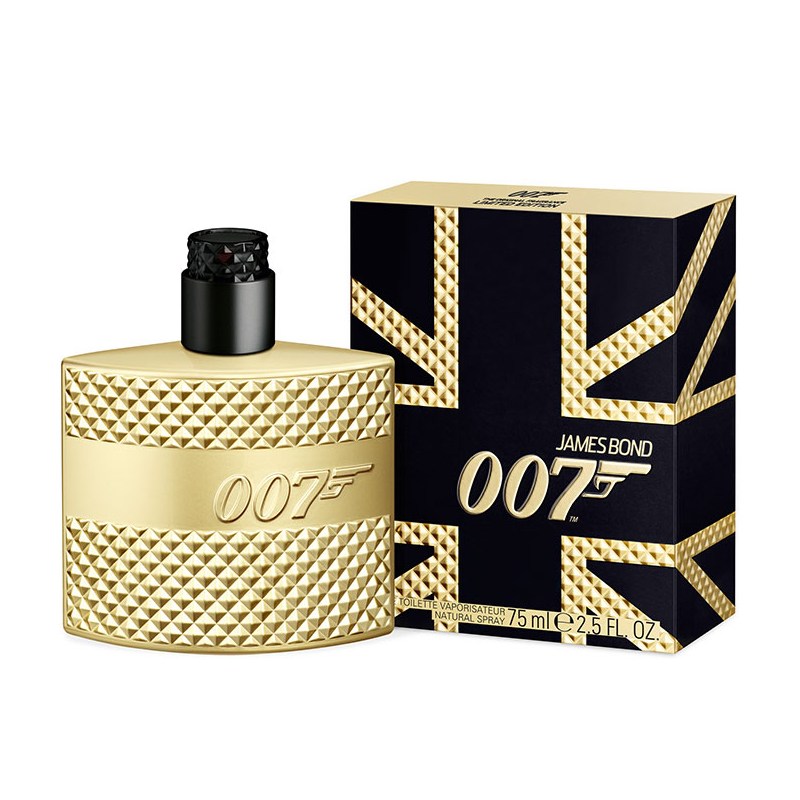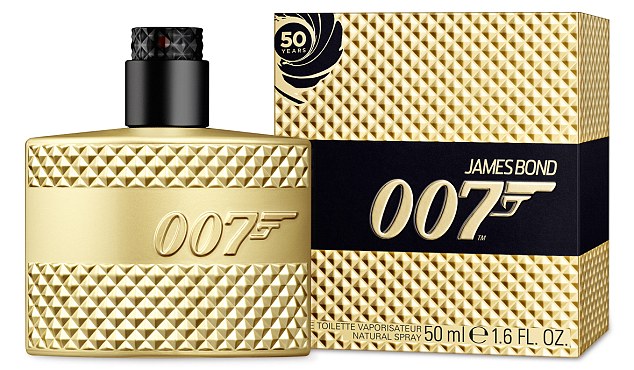 James Bond 007 Edition Gold Eon Productions for men

fragrance landing limited edition
fragrance landing

Masculinity and sophistication are at the very heart of the new James Bond fragrance for men. The fragrance embodies the unique duality of Bond's character: a smooth irresistible combination of masculinity and sophistication


Top notes: apple, bergamot and geranium
Middle notes: lavender, cardamom and rose thorn
Base notes: vetyver, patchouli and sandalwood
Eau de toilette
The new James Bond 007 fragrance, in SKYFALL which launches next month, will help gentlemen capture the aroma of the world's most famous spy.
2012 is a big year for Bond fans, as not only does it mark the 50th anniversary of the James Bond film franchise, but it will also see the launch of new movie Skyfall -- which premieres in October.
Eon Productions, which produces the James Bond films, has joined Procter & Gamble Co. to create the new scent, which has notes including fresh apple, cardamom and sandalwood.
The 007 logo is embossed on the front of the bottle, whose silver twist cap has been designed to look like one of the sleuth's gadgets.
Prices will start at $30 for a small bottle, with the launch kicking off at prestigious UK department store Harrods August 15. It will then be rolled out in other European countries and destinations including North America, India and China as of September.
The print ad campaign, which features a silhouette of a man who could be a member of MI6, has been designed by Greg Williams, who has created campaigns for five James Bond films.
Past Bond themed fragrances include the Bond Girl 007 perfume, which was created to be associated with the 2008 James Bond film Quantum of Solace. British actress Gemma Arterton, who played Agent Fields in the movie, was the face of the scent.
When asked by WWD if a new Bond women's perfume was a possibility at P&G, global business director of Eon Keith Snelgrove suggested it could happen.
"As a licensor, our hope would be to continue to evolve the fragrances. We are looking at the brand from a long-term perspective, and we're looking forward to a long-term mutual partnership with P&G," explained Snelgrove.
Bond 007 Show Gel 150ml

Bond 007 Man Blotters

Bond 007 Man Sachets

Bond 007 Man Vykort M Doftprov

Bond 007 Man Tester Edt 75 ml

Bond 007 Golden Edition Edt 50 ml Spray

JAMES BOND 007 PERFUME TEST 1.2 ML WITH A 007 PERFUME CARD.

SKYFALL JAMES BOND 007 PARFYM

SKYFALL JAMES BOND 007 PARFYM TEST 1,2 ML MED ETT 007 DOFTKORT

James Bond-fans har ett stort år att se fram emot.

I oktober har "Skyfall" premiär men i september kan de inbitna fansen
smygstarta hysterin – med en egen agent 007-parfym.

I år är det 50 år sedan den första filmen om agent 007 såg världens ljus och
det firas stort med nya "Skyfall? och med en specialtillverkad James
Bond-parfym.

Det är produktionsbolaget Eon Productions som har gått ihop med Procter &
Gamble Co. för att ta fram parfymen som ska få män att dofta som den
världsberömda agenten.

– Vi hoppas kunna fortsätta att utveckla parfymserien, säger Eons
Keith Snelgrove till Wwd, rapporterar Contactmusic.

I augusti släpps parfymen, som enligt uppgifter kommer att få namnet "James
Bond 007", exklusivt på varuhuset Harrods i London för att sedan säljas världen över från och med september.

Bond 007 Man Banner Set


Bond 007 Man Pop-Up Display

Bond 007 Man Counter Card
Bond 007 Man Window Display L

JAMES BOND 007 PERFUME TEST 0.7 ML WITH A POSTCARD

JAMES BOND

007

PERFUME

TEST

0.7

ML

WITH A

POSTCARD
Copyright © 1959-2017 www.007Museum.com All Rights Reserved






James Bond 007 Museum Nybro, Sweden . www.007museum.com
Contact: 007museum@telia.com , tel. +46-481-12960 .Open Daily 10.00 - 17.00 (lunch 13-14) Sat 10.00-14.00
Adress: James Bond 007 Museum, Emmabodav.20, 382 45 Nybro, Sweden 0481-12960
James Bond Materials© 1962 - 2017 United Artists Corporation and Danjaq, LLC. 007 Gun Logo© 1962 United Artists Corporation and Danjaq, LLC. 007 Gun Logo, Iris Logo,
JAMES BOND and all other James Bond related trademarks - Danjaq, LLC. All Rights Reserved. Copyright