The Man With The Golden Gun (1974) Roger Moore Mannen Med Den Gyllene Pistolen 1974
Thailand - Scaramanga's base was actually a volcanic rock island called Khow-Ping-Kan in the Phang Nga Bay of Thailand.
Film Man with the Golden Gun (1974)
Location Ko Tapu, Phang Nga Bay, Phuket
Scene Bond flies over Phang Nga Bay on his way to hitman Scaramanga's island hideaway on Ko Tapu, now known as James Bond Island. Here, Scaramanga shows Bond his solar power plant hidden in the rocks, destroys his plane, sits down for lunch with him and then suggests a duel on the beach, which he walks away from.
STAY
On Koh Yao Noi, Six Senses Yao Noi Beyond Phuket has excellent leisure facilities - a must for properly exploring Phang Nga Bay - and can arrange helicopter trips for James Bond-style views.
Six Senses Yao Noi Beyond Phuket, 56 Moo 5, Tambol Koh Yao Noi, Amphur Koh Yao, Phang Nga, Thailand (00 66 76 418500; www.sixsenses.com). Villas from £275
Ko Tapu, Phang Nga Bay James Bond Island Thailand James Bond Island in Phang Nga Bay Thailand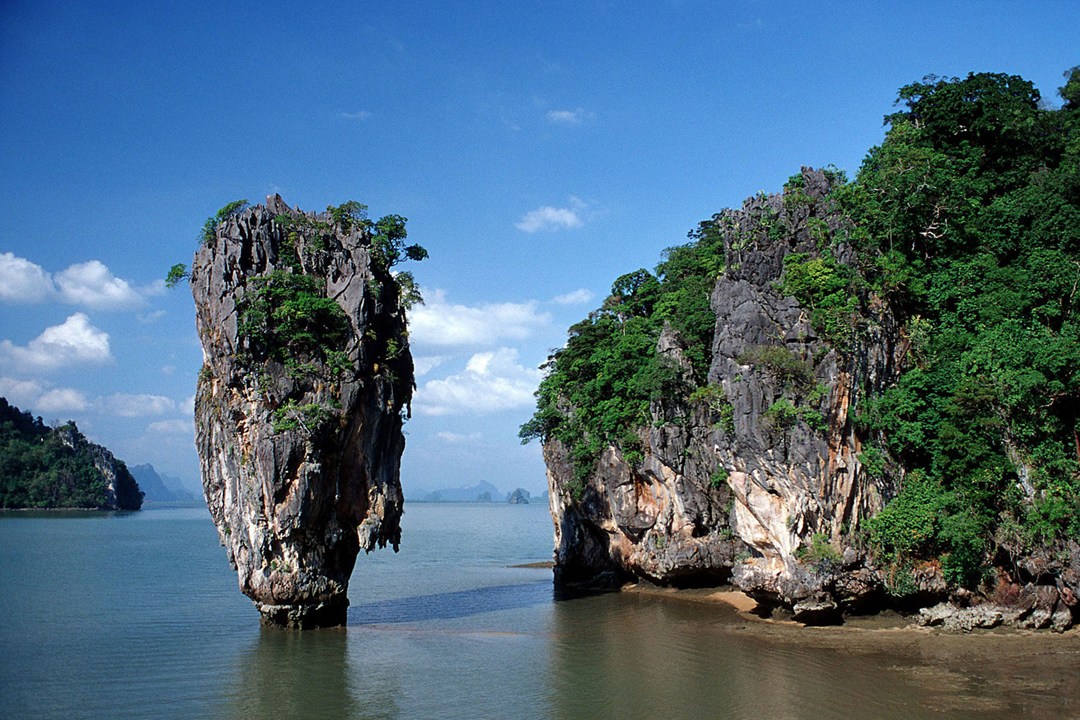 James Bond Island in Phang Nga Bay Thailand with James Bond 007 Museum Nybro Sweden founder President/CEO Gunnar James Bond Schäfer
The Man With The Golden Gun

Locations: London to Beirut Libanon, the Macau- Hong Kong- Bangkok, Thailand - Scaramanga's base was actually a volcanic rock island called Khow-Ping-Kan in the Phang Nga Bay of Thailand.

Scaramanga then proposes a pistol duel
with Bond on the beach; the two men stand back to back and are officiated by Nick Nack to take twenty paces, ...

First character with three nipples

First time Bond is unhappy to see the Bond Girl (Goodnight)

First (and only) time Bond drinks Phuyuck

First appearance of Maud Adams (she would return as Octopussy)

First time M barks at Q to shut-up

First stunt to use a terrible sound effect (the whistle sound during the car jump)

First time that Bond goes to Bangkok, Thailand

First mention of the energy crisis

First time that a midget is the villain's henchman (Herve Villechaize)

First time a relative of Ian Fleming is cast in a Bond film (Christopher Lee)

First time the lead villain was related to the horror genre (Christopher Lee)

First time 007 drives an AMC Hornet

First flying car


First time another Double-O agent is shown in the field (009

Nick Nack serves him Guinness and Moet Chandon to make a "Black Velvet". " Black Velvet", Francisco Scaramanga's choice of drink is simply ... soft drink.


Nick Nack serves Scaramanga Moet Chandon

The Solex was inspired by the energy crisis of the 70's.

Scaramanga's base was actually a volcanic rock island called Khow-Ping-Kan in the Phang Nga Bay of Thailand.

Christopher Lee is the cousin of Ian Fleming.

Britt Ekland, real name Eklund, is the ex-wife of Peter Sellers who starred in the spoof of Casino Royale.

Britt Ekland was pregnant during the shooting.

Felix Leiter is a main character in the book version, yet he does not make an appearance in the film version.

The name Scaramanga came from a Greek man Fleming knew named Pandia Scaramanga whom he met on the island of Hydra and in whose island house he stayed in. Fleming actually asked permission to use the name, letting him know that he would be a villain. Mr. Scaramanga, being a superstitious man, replied: "I certainly do not mind your using my name but please do not to kill me."

The scene where Scaramanga and 007 stand back-to-back, with their guns drawn, is a reference to the John Wayne western The Comancheros (1961). The only difference was that Nick Nack counts to 20, instead of 10.


When Bond finds Andrea Anders in the shower, the reflection of a crew member can be seen in the mirror's reflection.

Nick Nack servning Dom Perignon

The Man with the Golden Gun: Dom Pérignon '64 (Bond says he prefers the '62) and Moet Chandon in opening scene.
Denna årgången får Bond serverat av Nick Nack på ön til Scarmanga i The Man with the Golden Gun. 007 helst föredrar '62-årgangen.


Golden Gun pistol 007 bullet.

Roger Moore Maud Adams Britt Ekland
on set Thailand.

Maud Adams as Andrea Anders

(Roger Moore) James Bond (Britt Ekland) Mary Goodnight in bed action.

Roger Moore as James Bond
| | |
| --- | --- |
| James Bond 007 Museum Nybro Sweden Statistics 27292392 million hits 2015 on the James Bond 007 Museum 185 countries. | |
Fransisco Scaramanga
Played by Christopher Lee

Scaramanga plays the title character in The Man With The Golden Gun, as the the best and most highly paid assassin in the world (at $1 million a 'hit'). He plans to monopolise solar power and when Bond gives chase, Scaramanga challenges him to a duel on his island. Of course, 007 comes out as a winner. Coincidentally, actor Christopher Lee is Ian Fleming's cousin

Nick Nack
Played by Herve Villechaize


Nick Nack is Fransisco Scaramanga's diminutive assistant who gets thrills from trying to use others to eliminate his boss. Nick Nack is the controller of the man with the golden gun's play house -- he knows that when his master dies, he will become the heir of the estate.

Sheriff JW Pepper
Played by Clifton James

A hick sheriff from Louisiana, Pepper first met Bond in Live and Let Die while Bond was escaping from Kananga's henchmen by motorboat. JW serves as comic relief in The Man With The Golden Gun. He really isn't an ally, so to speak. Instead, he serves as one of Bond's contacts.

Lieutenant Hip


Played by Soon Taik-Oh






Hip is the Hong Kong police officer assigned to work with Bond to recover the Solex Agitator. When he pretends to arrest Bond following the assassination of Gibson, he inexplicably fails to tell 007 that he is actually bringing him to a meeting with M, thus causing Bond to have to initiate an escape. Later, after he and Bond flee Hai Fat's henchmen, Hip speeds away in his car leaving Bond behind in the dust to fend for himself. Hipe later suffers the indignity of disguising himself as a peanut vendor at a boxing stadium. Although he succeeds in recovering the Agitator, Hip makes the mistake of entrusting it to Mary Goodnight.
Bollinger Champagne in James Bond films!
Dom Perignon '52

Title: Bollinger of James Bond and Gunnar Schäfer

Description: James Bond, legendary hero of fiction and film, is devoted to the Crown and to his cup of Bollinger Champagne. Just as Bollinger has been awarded the Royal Warrant by seven British monarchs since 1884, so has Bond pledged his loyalty to Bollinger. For more than four decades - since Ian Fleming penned his first James Bond, Agent 007 thriller in 1953 - Bond has enjoyed his Bollinger Champagne.
Denna champagnen finner James Bond i fartyget till Strömberg i The Spy Who Loved Me. "Maybe I missunderstood Stromberg", säger Bond til Anya Amasova. "A man who drinks Dom Perignon '52 can't be all bad".
Dom Perignon '53
James Bond serverar denna årgången till Jill Masterson på hotellrummet i Miami i filmen Goldfinger. 007 förklarar att den aldrig får drickas om temperaturen överstiger 38 grader Fahrenheit. ("As bad as listening to the Beatles without earmuffs"). För Bond får hämtar en ny flaska från kylskåpet blir han emellertid nedslagen av Oddjob.
Dom Perignon '55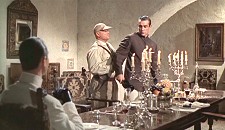 Dr. No frågar Bond att smaka på denna champagnen då de äter middag. Bond forsöker att använda flasken som vapen, men ångrar sig . Då han har sätter sig ned, säger han "I prefer the '53 myself". Detta hindrar likväl inte Bond från att beställa Dom Perignon '55 då han möter Domino i Thunderball.
Dom Perignon '57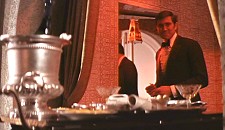 Bond får beställer denna champagnen upp på rummet till sig själv och Tracy efter att han räddat henne från att betala 20.000 franc i spelskuld i On Her Majesty's Secret Service.
Dom Perignon '59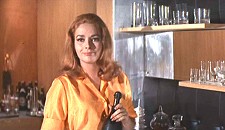 Bond blir tilldelad denna champagnen av SPECTRE-agent Helga Brandt på kontoret till Osato i You Only Live Twice.
Dom Perignon '64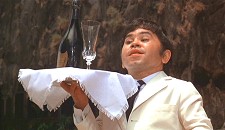 Denna årgången får Bond serverat av Nick Nack på öen til Scarmanga i The Man with the Golden Gun. 007 kan inte själv inte beställa att han helst foredrar '62-årgangen.
Bollinger 1961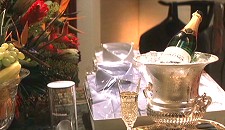 James Bond beställer denna årgången till hotellrummet sitt i Hong Kong efter att han har flytt från MI6 i Die Another Day.
Bollinger 1969
Astrofysikern Holly Goodhead har denna champagnen på hotellrummet sitt i Venezia i filmen Moonraker. Bond får senere veta at hon är en CIA-agent.
Bollinger 1975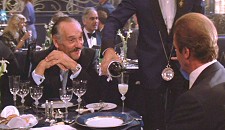 Bond känner igen denna årgången på restaurangen i Eiffeltornet i filmen A View to a Kill. Därefter beställer Achille Aubergine en flaska Laffitte Rothschild 1959. "Another excellent choice", är Bonds kommentar.
Bollinger RD 1988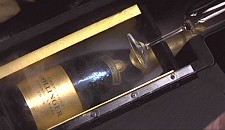 Denna champagnen uppenbarar Bond i ett specialfack i sin Aston Martin i början av GoldenEye. Caroline, som har blvitt sänt ut av M för att värdera Bond, blir imponerad av detta.
Bollinger Grande Année 1990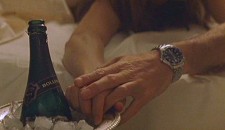 Denna eftertraktade årgången, som skall vara en av de allra bästa Bollinger-årgångar, dricker Bond och Elektra i The World Is Not Enough. (Dessutom dricker Bond Bollinger tillsammans med Dr. Christmas Jones på slutet av filmen, samma 1990-årgangen det också).
Bollinger R D 1975

Denna mycket lyxiga champagnen köper Bond till Koskov i The Living Daylights. "Bollinger R D, the best!" ropar Koskov, men M ser surt på Bond. "The brand on the list was questionable", kommenterar Bond tort.

Bollinger R D dyker ockå upp i Licence to Kill. Då Bond kommer till Isthmus City där han gör inntryck av att vara mycket rik för att vara säker på att hans ankomst blir lagt märke av Sanchez. Därefter beställer han en hel låda med Bollinger R D till hotellrummet sitt (det visas emellertid aldrig i filmen).


Förutom vackra damer har James Bond (på bilden Roger Moore) alltid gillat champagne.
Favoriten är Bollinger – såväl i "Moonraker" från 1979 som i senaste filmen "Casino Royale


Lily Bollinger - London Daily Mail, October 17, 1961.
"I drink my Champagne when I'm happy and when I'm sad.
Sometimes I drink it when I'm alone.
When I have company I consider it obligatory.
I trifle with it if I'm not hungry and drink it when I am.
Otherwise I never touch it - unless I'm thirsty".


Champagne Bollinger Speciell Cuvee` WITH STRAWBERRY